Hand in Hand – The Pink Singers' summer concert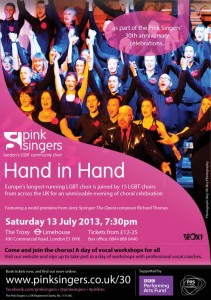 An evening of choral celebration, marking the Pink Singers' 30th anniversary, featuring 15 LGBT choirs from across the UK.
Find out more, including how to take part in our vocal workshops.
Tickets from £12-25.
Book tickets online now from The Troxy.
or by phone from the ticket office: 0844 888 0440
Saturday 13 July 2013, 7:30pm
The Troxy, 490 Commercial Rd, London, Greater London E1 0HX
By clicking 'subscribe', you agree to have your email address added to our mailing list – you'll get no more than one newsletter a month, and can unsubscribe at any point. The Pink Singers takes your privacy seriously. We do not rent, sell, or share personal information about you with other people or companies. For more information refer to our data protection policy.
Follow the Pink Singers