Would you like to be a Pink Singers Trustee?
Now in our 36th year, the Pink Singers is a fun, friendly LGBT+ (lesbian, gay, bisexual and trans) choir based in London. We've changed a lot over recent years and we need to change the way we are run to ensure we continue to be fit for the future.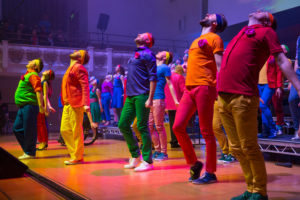 We have grown to 90 active members, we have been involved in some amazing projects with the LGBT+ community around the world and we continue to delight our audiences by improving the quality of our performances and broadening our repertoire.
Following an extensive review our members have voted to make some fundamental changes to how we run the choir and we are now seeking to make a number of external appointments onto our Board of Trustees.
We recently drafted a new constitution and are in the process of changing our structure from an Unincorporated Association to a Charity Incorporated Organisation (CIO) and are hoping to have approval from the Charities Commission by January 2019.
In the proposed new structure existing choir members will continue to manage day to day activities, whilst a group of up to 7 Trustees will oversee our strategy and governance.
The new Board of Trustees will include at least one member of the current choir and we hope that the other positions will be filled by people outside the current choir membership. We are looking for Trustees with one or more of the following, and hope that across the Board of Trustees we will have all areas covered.
Business skills from finance to marketing, fundraising and change management
Connections to the LGBT+ community
Board / committee experience
An interest in choirs and music
A mix of genders, sexualities and diverse backgrounds that reflect our current membership
We actively encourage members from the trans and BAME communities
Time commitment
As these roles are new we are not sure exactly how much of a time commitment will be required. In the first year whilst the Board works with our current organisational team develop and sustainable long term structure, we are assuming there will be a strategy away day and 6 x 2 hour meetings over the year plus some prep work and involvement with the occasional project.
We estimate the initial commitment to be around 5-10 hours per month, with this likely to reduce over time. Meetings will be as and when convenient for the majority of trustees however some meetings are likely to be on a Sunday in London to coincide with our choir rehearsals.

Roles, profiles and other info
Please click on the links below to access the role profile(s) you are interested in.
You can also find out more about why we are recruiting an external board of Trustees.
Application process and timescales
Review the additional documents above
Send a copy of your CV to trustee.recruitment@pinksingers.co.uk
The deadline for applications is 27th January 2019.
We are anticipating that interviews will take place early / mid January 2019 in London. We hope to have appointed our full Board of Trustees by end January 2019 and to have our first Trustee meeting in March 2019.
If you have any questions or would like any further information, please email trustee.recruitment@pinksingers.co.uk or call Nicki Wakefield on 07941 453896.