Finance trustee required
Now in our 37th year, the Pink Singers is a fun, friendly LGBT+ (lesbian, gay, bisexual and trans) choir based in London.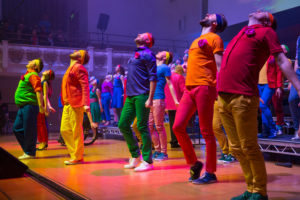 We have grown to 90 active members, we have been involved in some amazing projects with the LGBT+ community around the world and we continue to delight our audiences by improving the quality of our performances and broadening our repertoire.
Following an extensive review our members voted to make some fundamental changes to how we run the choir and we have established a new Board of Trustees which has been in place for 9 months. We are now seeking to make an external appointment of a Finance Trustee onto our Board of Trustees.
We recently drafted a new constitution and are in the process of changing our structure from an Unincorporated Association to a Charity Incorporated Organisation (CIO) and are hoping to have approval from the Charities Commission later in 2020.
In the new structure existing choir members continue to manage day-to-day activities, whilst a group of up to 7 Trustees oversee our strategy and governance.
The new Board of Trustees includes at least one member of the current choir with most other Trustees coming from outside the current choir membership.
We would particularly encourage applications from BAME / trans / non binary / female applicants to improve our intersectional diversity.
Time commitment
In the first year whilst the Board works with our current organisational team to develop a sustainable long term structure the time commitment may be around 5-10 hours per month, with this likely to reduce over time.
Currently the Trustee Board meets monthly for 1 – 1.5 hours with Trustees either attending in person at Business in the Community (N1 7RQ) or virtually by telephone or video conferencing. We are aiming to reduce the frequency of these meetings once we are more set up and the change-over to a CIO has been completed. Between meetings Trustees are expected to complete agreed actions which might include involvement in projects the Pink Singers are undertaking, or in the case of the Finance Trustee scrutiny of the accounts with the choir Treasurer for example.
Roles, profiles and other info
Please click on the links below to access the role profile(s) you are interested in.
You can also find out more about why we are recruiting an external board of Trustees.
Application process and timescales
Please send your application form and CV to Dr Helen Drew (Trustee Secretary) at trustee.secretary@pinksingers.co.uk. Please also contact Helen if you have would like any further information or have any questions.
The deadline for applications is Sunday 23rd August 2020
We are anticipating that interviews will take place virtually in early September.