'You need to understand everybody's motivations and rationales and desires and insecurities and abilities, and pull it all together to create one fantastic coherent voice.'
Paul Cutts, Musical Director 1992–1997
The choir has had six musical directors since inception:

Each has brought a different set of skills and musical interests to the choir.

Mark Bunyan
April – July 1983

Mark Bunyan (born 1949) is best known as a cabaret artist, although his accomplishments also include being a national recreational trampolining medallist and many writing credits. His story is told in the film Mark Bunyan: Very Nearly Almost Famous and he kept a diary which recorded his first impressions of the Pink Singers. In his speech at the Pink Singers' 25th anniversary concert, he recalled that in early 1983:
'Brian Kennedy, gay activist, journalist and all-round good bloke decided that London should have its own gay community choir. There were already several gay choirs, mainly male choruses, in the United States but none in this city… I was one of a very small handful of out gay musicians with any kind of public profile… I knew that starting a choir would be a big commitment and I wasn't really that sure that I could spare the time but Brian was very persuasive and in due course on April 7th 1983, there was a well-advertised meeting at the Oval House in Kennington to which 29 people turned up plus Brian, myself and a noble pianist whose identity has disappeared.'
At that first rehearsal, Mark taught the nascent choir two songs: a version of Frère Jacques with alternative lyrics ('Homosexual, homosexual / Lesbian, lesbian / We are homosexual, we are homosexual / We are gay, we are gay') and a piece of mock plainchant he'd written for the American gay protest-performance group, the Sisters of Perpetual Indulgence, called 'Veni' or 'I Come'. These, with the addition of Scarborough Fair, were the basis of the first public performance at the London Pride march.
'There is, incidentally, a bit of a myth that the Pink Singers, as they became known after the second meeting, were formed to sing at that year's Pride march. Though our first public appearance was at Pride – and at the head of the march I may tell you (no mayoral presence in those days) – the object was always that the choir would keep going as a community choir.'
But Mark Bunyan's career was taking off and he did not have the time to dedicate to a choir.
'I'd told Brian and the choir, as it got going, that I was doing it for three months and three months only. No-one was quite sure what was going to happen once I left. On the very day that the three months were up, a man came up to me at the Sunday afternoon rehearsal in County Hall and told me that he'd just moved to London, had been conducting a choir in Salisbury (I think) and would it be possible to conduct the occasional piece. I looked at him for a moment and said "Better than that…."
That man was Robert Hugill.
---
Robert Hugill
July 1983 – September 1988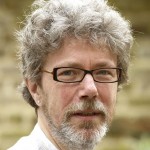 Hugill (born 1955) is a composer of contemporary classical music and he brought his knowledge and love of this music to the choir, augmenting the cabaret styles and playful innuendo of Mark Bunyan's stewardship. Robert is now an award-winning composer and writes a classical music blog, Planet Hugill. In a blog post recalling his involvement with the Pink Singers, he described the way that the choir developed under him:
'Our annual programme developed into a structure, we had our annual Christmas Antidote concert and a further birthday concert in April, and some sort of appearance at Gay Pride. Added to this we made appearances at various Lesbian and Gay groups in and around London; these provided much needed funds…
Our repertoire varied between political songs and cabaret numbers. The early members of the group included a number of people who felt that the group's raison d'etre was to do a lot of political songs, and there was sometimes a bit of a pull between these and the guys who wanted to be more fun. It was only in the later years, when the group had grown, that the more fun, show-tunes, element became dominant.'
Under Robert Hugill, the choir established a management committee. This allowed the Pink Singers, which now had a formal constitution, to join the National Federation of Music Societies and put it on a more permanent footing. It also laid the foundations for inevitable differences of vision between the choir management and membership and the musical director.
'For the first time ever, the group developed a personality which was independent of mine. A number of singers had travelled to the USA to attend gay choral festivals there, and came back with ideas for music and performance. This was when the group's identity asserted itself, and I felt that my ideas did not chime in with theirs.'
---
Michael Derrick
September 1988 – September 1992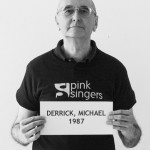 The next to take up the pink baton was Michael Derrick, who had been accompanist under Robert Hugill.  Michael (born 1946) was a Mathematics lecturer and active in the scene as a member of the Campaign for Homosexual Equality and a volunteer for the Gay & Lesbian Switchboard. He did not seek out the choir; the choir found him:
'One Saturday night in October 1986, I was drinking in my favourite pub. A complete stranger came up to me and introduced himself as Robert Hugill, the director of the Pink Singers. I had never heard of them. Robert was looking for an accompanist, and one of his drinking companions had pointed me out. He asked me to come to the rehearsal the next day – which I did.'
Michael Derrick continued the structure that had been established by Robert Hugill and built on the work he had done.
'[Robert had] turned them into a choir which gave regular concerts, rehearsed for concerts, had a standard repertoire, a rolling repertoire. He chose the repertoire, he wrote arrangement to suit the choir. And so every rehearsal was part of a build-up to a concert: a performance and then a new set of repertoire and so on. So I knew it was that sort of choir. And at every rehearsal there was the aim of putting on the next concert. So there was a very well defined set of objectives for each rehearsal. That was the choir that I joined and it's more or less the structure that has survived to this day.'
In 2013, Michael was asked about his contribution to the choir (he's still a singing member today) and his response focused on the development of the membership:
'Before I was the conductor it was a men-only choir. But when women came along to ask if they could join I always said yes, welcomed them, sat them down and gave them some music. And by the next week there was some specific things for them to do. I'd rewrite the arrangements to involve women. And then they brought friends and slowly the number of women increased. The first concert I conducted was the first concert the Pink Singers gave with women and men in the concert. Before that there were women and men together on the marches, but it was the first concert. And for every single concert since then there have been women and men in the choir. And that's something I'm extremely proud of.'
Michael Derrick went back to being the accompanist when Paul Cutts took over.
---
Paul Cutts
September 1992 – 1997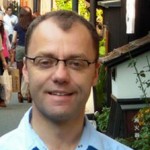 Cutts (born 1968) had joined the choir as part of a personal odyssey of moving to London and coming to terms with his sexuality. As someone with some musical training (a classical background as a cathedral chorister), he was asked to stand in when Michael Derrick was away, and within six months, took over.
'I came very much through that traditional music route. I wouldn't have known Hello Dolly! from the chorus line if you had slapped it across my face with a wet fish. So for me it was really interesting having this world opened up to me…'
Under Paul Cutts, the choir became a four part – soprano, alto, tenor and bass– choir and again widened the range of music it sang.
'I'd often arrange sometimes American political protest songs, and we would sing those in new arrangements. We would challenge people's sense of their own abilities. We would challenge them with the harmonic language that they sang in, how they blended in with other voices… I wrote original repertoire for the choir, introduced some other more traditional music as well. At the time we also had a non-religious music policy as well, so we wouldn't sing anything that had a religious context, which for me was challenging having come from a Catholic cathedral music background.'
Paul Cutts left to focus on his journalistic career, although he remained a singing member for the first year.
---
Mladen Stankovic
1997 – November 2010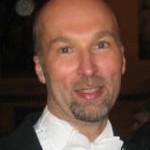 The new MD was a Serbian music teacher, Mladen Stankovic, who had  previously conducted the Yugoslav National Opera and the Sarajevo Symphony Orchestra. He is the longest-serving Musical Director to date, staying with the choir for 13 years.
Under Mladen's direction, the Pink Singers developed enormously. The size of the choir doubled within this period to around 80 singers, requiring us to seek out larger rehearsal space to accommodate us all. As a result of this growth and a more rigorous audition process, the standard of our singing and performances improved considerably. We moved concert venues several times as our audiences grew (including the Royal Academy of Music and the Royal College of Music) before we settled on our now familiar home of Cadogan Hall.
Mladen consistently programmed classical music and established the balance of classical and popular music that we have today. It was also during this period that we produced our first ever CDs – Hand in Hand and Pink Singers Live which are still selling strong and available to buy today.
Many people in the choir remain today who have fond memories of Mladen's time with us. Everyone no doubt has a favourite memory from his 13 years as Musical Director, although perhaps the best evidence of his achievements is the second place the Pink Singers achieved in the Manchester Amateur Choral Competition in 2009.
---
Murray Hipkin
November 2010 – present


The choir auditioned for a new Musical Director in 2010 and appointed Murray Hipkin (born 1962). The appointment represented a shift in gear for the choir. As a member of the English National Opera and experienced conductor of the North London Chorus, Murray has brought a high level of choral specialism and increased the polish of performances. His tenure has also coincided with a greater emphasis on choreography and the establishment of a larger music team.
You can read Murray's biography on our management and artistic team page.