By Special Arrangement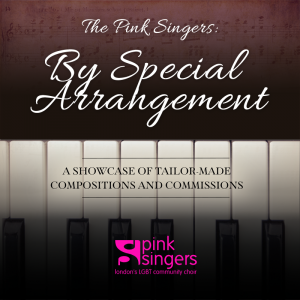 Recorded in January 2016,  our latest album is now available for sale. Find out more…
If you want to hear completely bespoke arrangements of songs from the likes of Kate Bush, Sia, Frankie Goes to Hollywood and more, then download it now.
P.S. We're 30
Recorded in November 2012, the Pink Singers' P.S. We're 30 CD showcases a fabulous array of the choir's most memorable repertoire over its thirty-year history.
Cantique de Jean Racine (Fauré)
Dies Irae (Mozart)
Lacrimosa (Mozart)
Liebeslieder (Brahms)
With a Lily in Her Hand (Eric Whitacre)
Lisa Lan (Traditional Welsh)
Baba Yetu (Christopher Tin)
Lovesong for a Vampire (Annie Lennox)
Anything Goes (Cole Porter)
Send in the Clowns (Stephen Sondheim)
Joyful, Joyful (after Beethoven)
One Day More (Claude-Michel Schönberg)
Seasons of Love (Jonathan Larson)
£10 plus postage & packing
Hand in Hand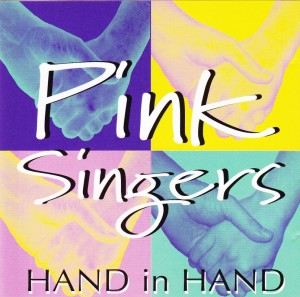 'Hand in Hand' was the first CD by the Pink Singers and was compiled in 2000 from recordings made at various concerts, including at the Royal Academy of Music.
Italian Salad (Genee)
Bohemian Rhapsody (Mercury)
If We Hold On Together (Jennings/Horner)
I Heard It Through The Grapevine (Whitfield/Strong)
Night And Day (Porter)
Big City (Quan)
When You Tell Me That You Love Me (Hammond/Bettis)
Happy Together (Gordon/Bonner)
Satin Doll (Ellington/Strayhorn/Mercer)
Don't Cry For Me Argentina (Rice/Webber)
Boogie Woogie Bugle Boy (Raye/Prince)
Trout Medley (Schöggl)
Stand By Me (King/Leiber/Stoller)
Corner Of The Sky (Schwartz)
Always On My Mind (Thompson/James/Christopher)
Rhythm of Life (Fields/Coleman)
Hand In Hand (Rodgers/Walker)
£5 plus postage & packing
Live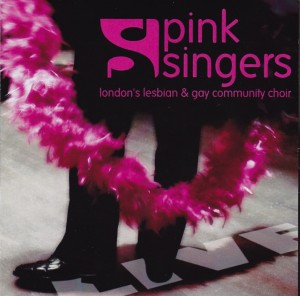 'Live' is the second Pink Singers' CD. All tracks were recorded live in concert between 2001 and 2008.
Dies Irae (Jenkins)
The Urchin's Dance (Rutter)
Habanera (Bizet)
Gershwin At The Opera (Gershwin)
Gershwin Swing Set (Gershwin)
Fascinating Rhythm (Gershwin)
Sing A Gershwin Showstopper (Gershwin)
Ain't Misbehavin' (Waller/Brooks)
Good Vibrations (Wilson/Love)
The Greats Of Paul Simon (Simon)
A Time For Us (Rota)
Where Do I Begin? (Lai)
Uptown Girl (Joel)
You're The One That I Want (Farrar)
Mister Sandman (Ballard)
They Don't Know (McColl)
What A Wonderful World (Thiele/Weiss)
Come What May (Baerwald)
Angels (Williams/Chambers)
Edelweiss (Rogers/Hammerstein)
The Best Of Bond (Ginsberg)
£5 plus postage & packing