One of the challenges creating our exhibition was choosing the language to use. Could we use 'gay' as a universal term? Was LGBT a broad enough definition?
The Pink Singers used to be a 'lesbian and gay choir' but now we are an 'LGBT' choir. You can't even escape debates about labels when you are singing!
1992: Homosexuality is no longer an illness says World Health Organisation
Society has attached labels to the LGBT community, and the community has also created its own labels to describe the diversity within the community.
Globally and historically, gay men and women have been subjected to degrading and damaging treatments aimed at curing what was seen as a medical condition. LGBT people have been determined unfit to care for their own children, to teach or to hold jobs that dealt with security and intelligence.
Today we have cast aside many negative labels. But the need to define who we are seems to be a universal human trait. Debates in the choir around identity have ranged from what we should wear to how we should describe ourselves.
Brothers and sisters
Is there really an 'LGBT community' anyway?
In reality there are many communities that overlap and separate at different times. Often the 'community' has split along gender lines, particularly during the 1980s when many women did not see common ground with men in the community. Many lesbians joined or founded separate groups like the Lesbian Avengers.
Hand in Hand was an anthem for the Pink Singers for many years. The choir amended the lyric 'brother looks to brother' to 'as sister and as brother'.
Exodus of the women
For a period in the 1980s there were no women in the Pink Singers.
It isn't clear whether they left on political grounds or due to having to sing the Leaping Lesbians once too often. The minutes from a choir committee meeting from 1989 insist that there was no mistreatment.
The fact that we don't have more information indicates, at the very least, that women were perhaps less likely to take the lead and shape early gay groups.
This video shows one of the many performances of the Leaping Lesbians. This one is from a concert at the London Lighthouse.
[youtube]https://www.youtube.com/watch?v=BCqv99vCAAM[/youtube]
Religion and homosexuality
Religion and homosexuality have rarely been happy…um… bedfellows.
Because of this, for a long time the Pink Singers refused to sing religious music. So strong was the feeling that the sacred lyrics to one song were replaced with 'la'.
For some people in the choir, faith is an important part of their lives. Today the choir sings a broad repertoire that includes some religious music. Many still object to singing John Rutter though. The minutes from this open meeting in 2009 cover protests against both.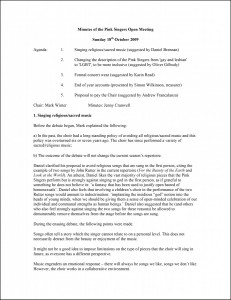 Labels: our stories