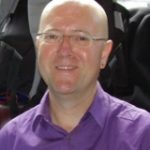 Wednesday 22 February saw the Pinkies' second contribution to LGBT history month this year. Unusually, we were given the opportunity to sing in a library, which felt naughty but good. Wood Green library in Haringey was the venue, and we were made to feel very welcome. We didn't exactly jump out from behind the shelves, surprising readers with Cole Porter and Kirsty McColl, Instead, we were in an upstairs room, which provided an intimate atmosphere. Around twelve of us sang, to an appreciative audience of about twenty.
As well as Cole Porter's Begin the Beguine, which we managed well as a last minute added item, we gave them Kirsty's They Don't Know, arranged by Andy Mitchinson, one of our basses, and a medley of Madness songs, also arranged by him. It was nice to see some hand-holding in the audience to Diana Ross's When You Tell Me That You Love Me (arranged by Michael Derrick, our accompanist) and we got the usual reaction to the Abba Medley (another of Andy's contributions) which we hit them with as an encore. Yes, they loved it, especially Jonathon's hip thrusts which we're about to lose to Sweden. Lucky old Stockholm!
In fact, we went down so well (ahem) that we've been booked by Haringey for LGBT history month next year! The evening ended with drinks and snacks and a peruse of a really good selection of gay-themed books and DVDs held by the library. Many thanks to all who made this a success, to Michael for rehearsing, conducting and accompanying us, and of course to Haringey for inviting us.
by Philip G
Bass