On the evening of the 12th of February 2007, the small group was priveleged to perform at the launch of Out In Time , a gay and lesbian history of the East End, at the Docklands Musuem in Canary Wharf.
The place itself was a converted warehouse with lofty ceilings, so there was some concern about how the acoustics would work, especially since the audience seemed to be doing the networking thing. There was some initial anxiety too about getting us all there in time, but the last few of our group showed up in the nick of time and we trooped on stage.
After a brief introduction, the dozen or so of us launched into our usual mix of jazz and pop numbers. We opened with Boogie Woogie Bugle Boy which is always a winner, and performed a version of Ain't Misbehavin' which those of us there will remember for a long time. Then there was the crowd-pleasing Madness medley. Many people stopped to sing along which is always a confidence boost! We performed a half hour set to appreciative applause.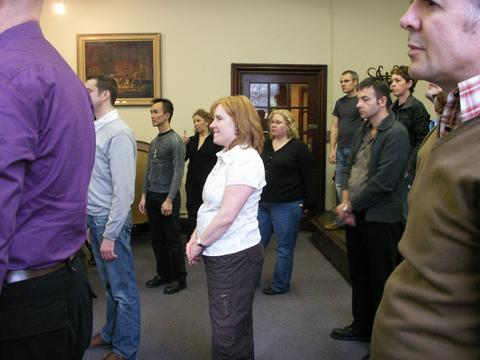 After that there was time to have a glass of wine and wander around the exhibition. The East End certainly is rich in gay cultural history, and we were pleased to be a part of this celebration of London's gay roots. Mark chastely Hollywood-kissed me, which was one the the highlights of the evening!
Gill
Alto
(with nearly 100% paraphrasing by Hsien!)