httpv://www.youtube.com/watch?v=-czxomPGFdM
This year's Pride march was a special one for London town, because it was the city's 40th. London's first march, in 1972, was born of the Stonewall riots in 1969 in New York, when the LGBT community finally said enough is enough and demanded equality. Since then progress has been slow and, overcoming setbacks like Section 28, we are a lot nearer to our goal.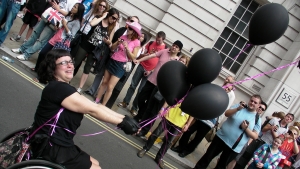 The Pink Singers was formed to sing at the London Pride march of 1983 which means that this year's parade was our 28th appearance. It was reassuring to see so many people lining the parade celebrating the day, but it also served as a reminder of how far we still have to go. We're proud!