In this special New Pinkie's View one of our altos Sue tells us what it is like to join the Pink Singers. Interested in trying our choir on for size? Then don't hesitate: get in touch with Gary on our Join Us page now!
Talk about popping my cherry! There have been so many things that I have done for the first time since I joined the Pinkies!
I have always loved singing but it has mainly been consigned to the car or the bath. I have a job, family and friends that keep me quite busy but felt it was time for me to find something that I could do just for myself and meet some new friends along the way. A friend told me about the Pink Singers, I had never heard of them before so I took a look on their website and immediately liked what I saw.
So for the first time in my life I went along to a choir alone (which for me is a very big thing!) I need not have worried because as soon as I arrived I was met by Gary who made me feel welcome. So many of the Pinkies came and spoke to me and put me at ease.
Just hearing the choir go through some of their repertoire was amazing and I came away knowing that this was something I wanted to be a part of. I spent the rest of the week looking forward to returning on Sunday and of course practising the piece of music needed to perform at my audition; this was yet another first for me as I had never auditioned for anything. I have to say that there were a few nerves, but there were also plenty of Pinkies on hand with advice and good wishes.
Well obviously as I'm writing this article and much to my surprise I was successful and so began my first season as a Pink Singer.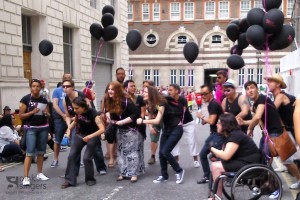 My Sundays have never had as much fun in them as they do now, rehearsals can be hard work as there are plenty of different styles of music to learn alongside a few dance moves, and of course at the end of rehearsal most Pinkies head off to the pub for a well earned drink… or two!
My first Pinkies concert took place in Bristol, and what a fabulous weekend it was aside from the great meal that we had on Friday night and the fantastic after show party laid on by our friends from Sing Out Bristol, the highlight of the weekend was performing on the stage and receiving such a great reception from a very appreciative crowd. I came off the stage feeling elated and looking forward to our concert in London.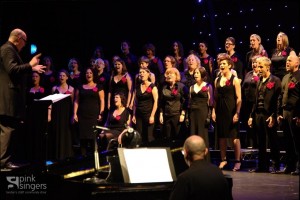 The weeks leading up to our big show in London were very hectic but so enjoyable with us all focusing on one thing to make this the most spectacular show. The day of the concert arrived and I woke up feeling a little apprehensive after all this was not only my first time performing in a London theatre, but my nearest and dearest friends and family would be in the audience too. I arrived at the Bloomsbury Theatre and could sense the excitement amongst everybody this was the day that all our hard work would come to fruition.
At precisely 7.30pm the curtain went up and we began to sing our first song, all the nervousness seemed to disappear within me and I was having the time of my life and so it seemed were most of the audience from their reaction. The show seemed to be over in a flash and it was not long before we were doing an encore and back in the dressing room, and then on the way to our after show party.
My first season as a Pink Singer has been an amazing experience, from my audition until the concert and everything between. I have met some fantastic people and enjoyed performing some great songs.
Being a Pinkie is not just about turning up on a Sunday and singing a few songs; to me it's a commitment, a way of life… which makes me say that I am so proud to be a Pinkie.