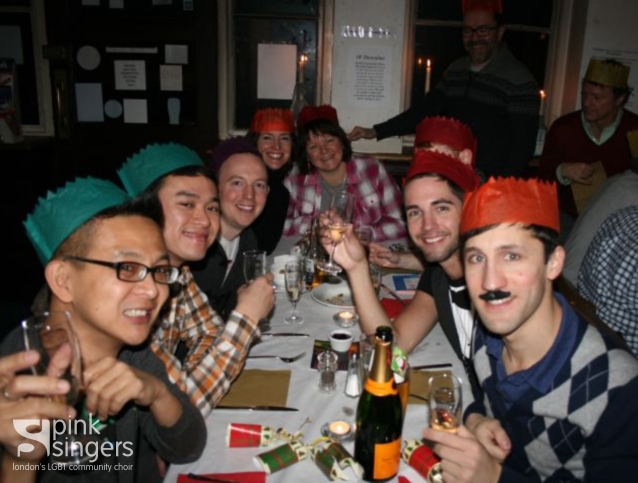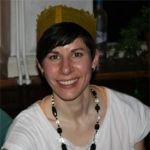 Never let it be said that being in the Pink Singers is all about work. Our Social Sec, Gary, is dedicated to the cause and the choir's fantastic social events keep us entertained, enriched and off the streets. They are also a brilliant way of getting to know other choir members better.
The Pinkies theatre trip in November to see Matilda the Musical at the Cambridge Theatre was a delight. The full quota of tickets was rapidly filled and more than 20 of us met to see this show based on Roald Dahl's tale of unrecognised child genius. By some small miracle, not unlike those in the show itself, we were upgraded to stalls seats and were within touching distance of the characters as they stalked, skipped or, in the case of one unfortunate schoolgirl, were hurled through the auditorium. This five-star show, with music by the unparalleled Tim Minchin, was just that: a funny, inventive, macabre, moving, jaw-droppingly good theatrical night out that was only improved by sharing it with other Pinkies, even if Murray, our MD, did start to channel Miss Trunchbull and threaten to fling us by our pigtails over the playing field if we committed any musical misdemeanours.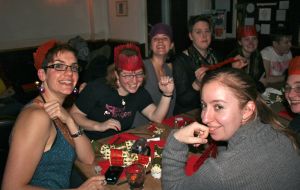 Our Christmas party in December was another highlight of a busy social season. Packed into the Harrison pub after our last rehearsal before Christmas, it was an evening of feasting and festive fun, the mulled wine freely flowing and the party well and truly going. Christmas dinner with all the trimmings, including that prince of batter-based foods, the Yorkshire pudding, was delicious, and speedily placed before hungry choristers by the gracious staff of the Harrison. But it was the music that truly lifted this evening to great heights of loveliness. The ever-popular open mic yielded some amazing performances of everything from classical piano duets to Jason and Kylie, and the a cappella numbers by some of the choir's small groups were fabulous. A ukulele-accompanied ditty had us laughing, while a beautiful performance of 'Out Here on My Own' moved us to tears. We couldn't help getting in a little extra practice with some group sing-a-longs either, all of which added up to the best Christmas party of the season.