On a freezing Wednesday last week a group of intrepid Pinkies made their way through biting winds to Glaziers Hall on the south bank of the Thames by London Bridge. The date was the 1st February and our mission was to sing in the start of LGBT History Month in Southwark.
This was one of many events taking place across the country, that day and over the coming month, celebrating the lives and histories of lesbian, gay, bisexual and transgender people – ordinary and extraordinary – who have left their mark on the history of Great Britain and Northern Ireland. LGBT History Month has become a fixture on the Pink Singers' calendar since its launch in 2005, and we have watched it grow and reach out to people everywhere.
It was my fourth time singing at this event and for me it was special for a number of reasons. It was our first gig after our big winter concert and a real tonic to the bleak weather, bills and New Year's resolutions that I'd already broken. Not only was it a chance to get a shot of Pinkie magic during our post-season break, but also a great opportunity to catch up with other Pinkies over a couple of sweet sherries in a very cosy pub after the show.
I always find smaller gigs challenging as we usually don't know the venue, where we'll be performing, how close we'll be to the audience or how many will be there, and this was no exception. In addition to all that, I was singing the solo in Sit Down You're Rockin' The Boat….. gulp! It had been performed brilliantly by Larry in our concert two weeks earlier, and was my first solo performance (not in the shower) for nearly 20 years! With our lovely Alice at the helm for a solo conducting flight across an entire gig and me not wanting to cause a crash of any sort, I was feeling the pressure somewhat.
I'm not sure which is worse and I've experienced both – the gigs we do in cavernous town halls where we are up on a huge stage looking down on the audience who are just a tiny dot in the distance, or the ones where we are actually in the front row with them, on their laps! Well, this one was the latter and it was quite an experience for them and us.
When the time came I think I can safely say that we managed to pull it out of the bag and gave a performance that, although it may not go down in Gay History, was worthy of the Pink Singers and certainly gave our audience something to warm to on a very cold February night.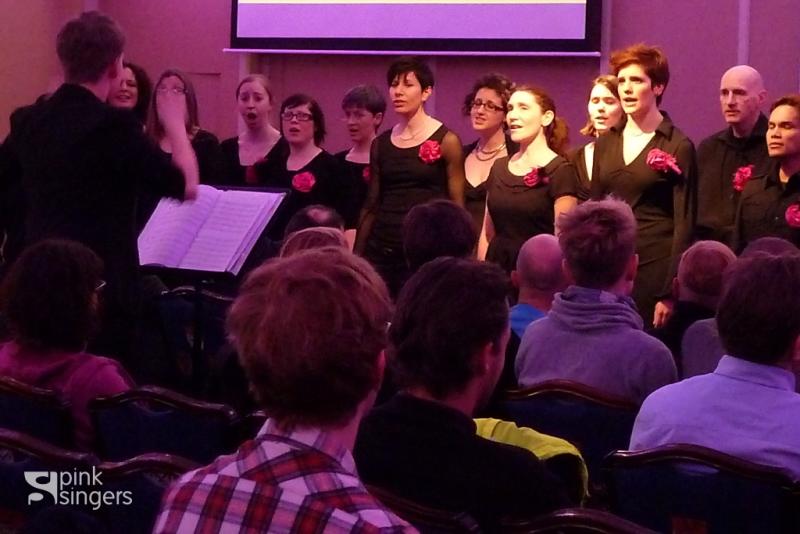 As we exited stage left and made our way to that cosy pub I mentioned, we were congratulated by Peter Tatchell who said his favourite part of our performance was the basses 'bums' in Constant Craving. Now there's a compliment!