They say life begins at 30…and for the Pink Singers it doesn't seem to have stopped since the anniversary concert! As a choir we were honoured to accept the invitation to perform at the Victoria and Albert Museum (arguably the most prestigious museum in the UK). The performance concluded a whole day's events organised by the LGBT curatorial group at the V&A as part of the LGBT History Month.
A stone's throw away from where Queen Victoria was born lays a museum packed with variety ranging from neo-classical paintings to the finest ceramics. As suspected the men paid a lot of attention to David that day…(created by Michael Angelo).
After warming up thanks to the 14 flights of stairs we headed to our performance space and on the way I walked past my second favourite place in the museum, the café…and if that wasn't good enough I then walked past my third favourite place…the shop (a crying shame I didn't get to visit my favourite place which is the Theatre and Performance exhibition…naturally).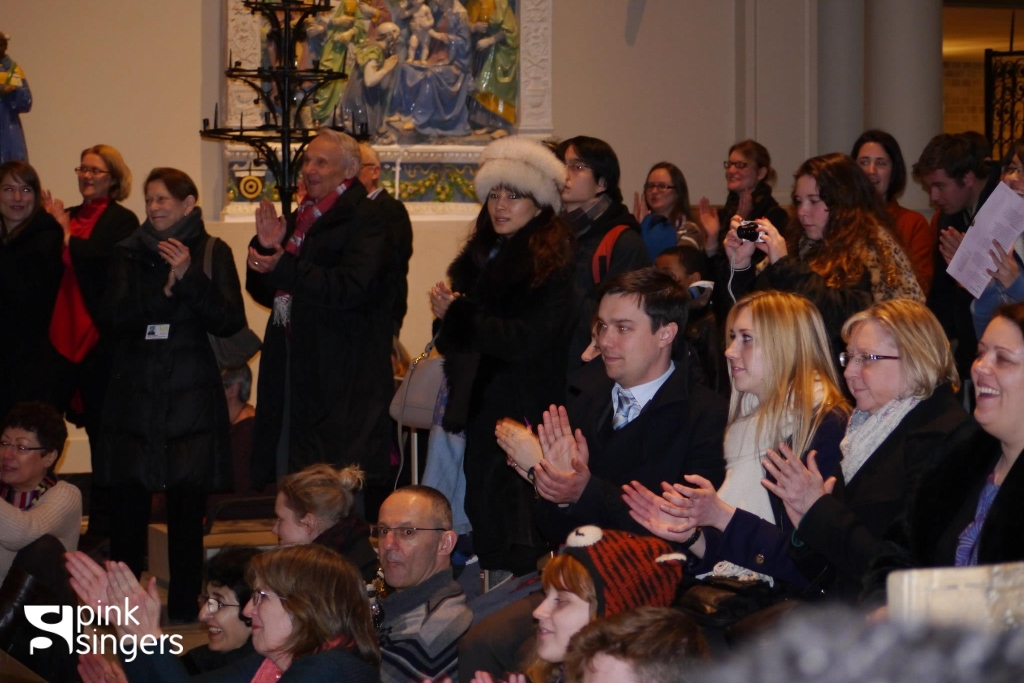 Amidst renaissance and medieval paintings and statues (with Christ hanging over us) the choir gathered to sing some of the repertoire from P.S. We're 30! An intimate crowd of 150 – 200 people turned out to hear us sing a range of music ranging from Massive Attack's Teardrop to Mozart's Lacrimosa. Opening with Hand in Hand seemed both prominent and appropriate to celebrate LGBT History Month and still reinforce the strong message it prevails.
The audience ranged from familiar friendly faces to those who may have been visiting the museum for the first time, who stopped, listened and acknowledged the work of a community choir that has grown over the years. One highlight for the onlookers seemed to be our rendition of the William Tell Overture which didn't surprise me really as I know a few members had felt a little hoarse that day.
As the famous phrase goes they say 'beauty is in the eye of the beholder' but in this instance it was the keyholder. Closing our set with Hand in Hand (of course) we were then strictly escorted back to a Seminar room to collect our belongings as the Museum was officially closed….time for Victoria and Albert to reflect on the days activities and remember the day the Pink Singers created history in the spectacular V&A. And if you missed it…fear not. We're back on Friday 15th March just because we loved it so much!
David
Tenor
Timeline datestamp: 23 February 2013