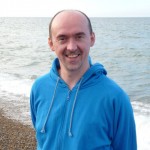 'Tales of the Pinkie' is our irregular series of articles looking back our history through the eyes of our members. This year we're presenting a range of great events to celebrate our 30 years of singing together. Find out more about our history and the LGBT rights movement in our brilliant exhibition 'Singing the Changes' that runs 13th June – 18th August.
Former Pink Singer Tim C chats to our current member Hsien about his memories of singing with the choir, taking part in our European trips and appearing on the set of Gimme, Gimme, Gimme.
When did you join the Pink Singers? Why?
I joined the Pink Singers in 1999. It was my New Year's resolution that year to join a choir so I started in the January. I used to be in the choir at school and wanted to improve my singing technique, which it definitely did. I joined the Pink Singers purely because it was a gay-friendly choir. I didn't want to be the token gay of a predominantly heterosexual choir, I wanted to be one of the many rather than the few.
Who was in the choir? Did this change in the time you were there?
I reckon there were about 40-50 of us, a big group of very friendly people. In the two years I was with the choir, some people obviously joined and others left, but I guess London is a bit more changeable than, for example, a town in the middle of the country. Having worked beforehand for The Pink Paper, Boyz, Positive Times etc, I know first-hand that the LGBT community is vast and varied. To me the 'lesbian and gay community' are the 'family' that you choose as opposed to the family you're related to.
What kind of music did you sing? Did this change in the time you were there?
The Pink Singers performed a variety of songs, some show tunes, some more traditional songs, nothing too highbrow in a classical sense, but we also sang a song or two in French and Japanese. I liked the variety and personally always liked 'Hand In Hand' (Dawn Rodgers, Tricia Walker), which was our signature tune at the time, although I think it's fallen out of favour, possibly as some of the choir had been singing it year in year out, but still a good song!
What are your favourite memories of being in the choir? Why?
My favourite memories of being with the Pinkies are varied. I used to enjoy when we'd socialise en masse – the feeling of being part of a group was always lovely. Rather than feeling like an outsider as an individual (at least when I was growing up), I now felt accepted for who I was and made lots of friends.
What kinds of activities did the choir participate in?

I remember singing at a library in South London to help publicise them as they were in danger of closing and I remember singing in a beautiful hall, a venue in Geneva and on the Pride March in London, but even more exciting was being one of the half a dozen or so who were in Gimme Gimme Gimme, for the Millennium episode.
When did you leave the Pink Singers? Why?
I eventually left the Pink Singers at the end of 2000 as I had a new job starting in January 2001 with shifts which meant I worked some Sundays every month, which conflicted with the rehearsal times.
Where did you grow up? What was your childhood like?
I grew up in a smallish town in the Midlands, small enough for everyone to know everyone else, but I often found that a bit intrusive rather than a bonus.
Have you come out? How did you come out and what was the reaction of the people around you?
I'm 41 but only came out three years ago. I moved to Norfolk with my partner then and we decided that with the fresh start of choosing our house together that we would have the fresh start of people only being invited if they knew we were partners rather than landlord and tenant. My parents were fine about it. I'd spent years dreading the thought of it and putting it off that it got to be a huge issue for me. I found it incredibly difficult to tell my parents, so told my brother first. Of the close friends and family I've told (ie most people I know), they've all been fine.
One ex-work colleague had a civil partnership to his partner a few years back and didn't even tell his parents as they found accepting his sexuality difficult, so he didn't even tell them he was getting hitched. Obviously, it's their loss, and I'm just grateful my parents' primary concern for me is whether I'm happy or not.
Is it important to you to be known as "gay"? Why or why not?
Obviously, coming out relatively late in life, I have mixed feelings. There's a part of me that thinks what I do and who it's with is between me and the person concerned, justifying keeping my sexuality a secret for all those years. Having said that, knowing I don't have to tell the important people in my family as I've already done it definitely means I have less stress in life.
Would you consider yourself an "activist"? Why or why not?
Am I an activist? Not really, no, or only on a small personal level rather than any purely political level. I stood on a stage with gay people acknowledging I was gay as I was singing, but it's hardly petitioning Tony Blair with signatures on gay marriage.
LGBT activism will always have a place in society until such a day comes as no-one is discriminated against, or bullied, or jeered, or whatever it may be, as a result of their sexuality. Until that day comes, then there needs to be some activism, making sure that our rights are heard and eventually met.
Did/do you participate in any LGBT specific events? Which ones and why?
I did participate in Pride for a number of the years I lived in London. I no longer am involved in the gay community (apart from my other half) as we live in the middle of nowhere – and I think the gay pub's only gay once a fortnight! I still have many gay friends, of course, but social life's hardly rocking here!