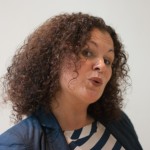 We round up our series of posts about our vocal workshop leaders for our upcoming Hand in Hand festival by introducing the sensational Loré Lixenberg, who, for our purposes, will be quite the renaissance woman…
Workshop #4: Medieval Mash-up

Loré Lixenberg conjures up some ethereal sounds from the middle ages in this exploration of unaccompanied vocal music.
Loré has performed in operas, concert recitals and music theatre across the world and recently featured in Anna Nicole at the Royal Opera House. She has also arranged and directed a wide range of musical styles, from medieval plain chant to electro-acoustic pieces, featuring videos and improvised choreography.
An extremely accomplished mezzo soprano, Loré has performed internationally at many festivals including those of Salzburg, Lucerne, Donaueschingen, Aldeburgh, Witten, Edinburgh and Huddersfield, and at the Wien Modern and Oslo Ultima festivals.
She has performed with orchestras and ensembles including the Hallé, Tokyo Philharmonic Orchestra, Danish National Symphony Orchestra, Swedish Radio Orchestra, Ensemble Intercontemporain, London Sinfonietta, Klanforum Wien, BCMG Ensemble Aventure, Icelandic Symphony Orchestra and Danish Royal Opera.
Her workshop will include teaching harmonies in plain chant in a few short pieces from various medieval and renaissance composers, including the French Machaut and Arbeau, as variations around the theme of courtly love in the style of medieval troubadours.
Get involved!
If you fancy a fun day of vocal workshops in a variety of styles, taught by leading professional musicians, get yourself signed up. And why not bring a friend, too! Workshop tickets are a bargain at £39 (£34 concessions) and include the chance to enjoy (and perform in!) our evening concert at the fabulous Troxy theatre in Limehouse, London.
Hurry, as sign-ups close Sunday June 30, 2013.