This Saturday, when you come along to Hand in Hand – our 30th anniversary festival, you won't just be watching us Pinkies! We'll be joined by a whole host of other LGBT choirs from around the country. Not got your ticket yet? Buy yours now!
Joining us to sing along as part of the massed choir in Saturday's evening concert, we welcome London Alternative Choir; Southampton Gay Men's Chorus; Rainbow Voices, Birmingham; Liverpool LGBT Singers; Northern Proud Voices, Newcastle, and Many Voices, London!
London Alternative Choir
London Alternative Choir is a choir composed of capable amateur singers, created with the aim to entertain, meet like-minded people, and raise the visibility of people and collectives with alternative lifestyles.
"We expect to include in the choir singers from all possible alternative lifestyles; that is, who don't live their love life or sexuality in a 'traditional' way.
We recognise and celebrate the advances of the LGBT collective towards social acceptance; and would want, through the initiative of organizing this choir, to help the mainstream world acknowledge and accept that respect for the private lives of others, even when different from one's own, is the hallmark of a civilized and tolerant society."
LAC started to rehearse in April 2013 and will give its first public performance on their own on the 20th July at the première of the restoration of Stuart Urban's movie Preaching to the Perverted.
Southampton Gay Men's Chorus
The Southampton Gay Men's Chorus is a new male voice choir founded in 2012.
"The intention is that we will perform in public to raise money for local LGBT charities. We only have a few members at the moment – but we do have lots of enthusiasm!"
Rainbow Voices, Birmingham
Rainbow Voices is a midlands-based choir which was established in 1995 with the intention of providing an opportunity for lesbian, gay, bisexual, transgender people and their friends to meet together in a safe space and celebrate their diversity in song.
The choir welcomes members from all sections of the community and sees diversity as a strength. Members are encouraged regardless of their previous musical and singing experience.
Liverpool LGBT Singers
Liverpool LGBT Singers are focused on creating a warm and welcoming atmosphere to all. We are fully inclusive, with members of all ages, sexualities and levels of singing ability.
We choose songs from all eras, from 60's to present day, from pop to rock to musicals.
Northern Proud Voices, Newcastle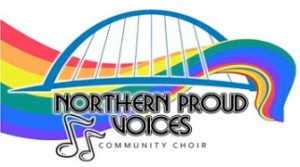 Newcastle's LGBT choir, Northern Proud Voices, was founded in March 2011. A prior survey of interest in establishing an LGBT choir on Tyneside had elicited some 50 positive responses and convinced Ken Mortimer, the leading spirit in organising NPV, that if other major provincial cities could sustain such a choir then so could Newcastle-upon-Tyne.
Many Voices, London
Many Voices is a new group that has met just once so far, and they plan to meet monthly starting in October. They are a non-performing group, singing for its own sake. All songs are taught by ear – so there's no need to be able to read music, or to believe you are the greatest singer! Gaynor and Tati say, "It's more about the joy of singing than performance." After Hand in Hand their next meetup will be Monday, October 14, in central London: see www.many-voices.co.uk