In the first of a series of blog posts leading up to our next concert, A Night at the Movies, Iain recalls a particularly moving film moment…
I was a 20 year old 1st year medical student when the film "Philadelphia" was released in 1993 and I saw it with my Mum during one of the university holidays – I think it's probably the only film we've seen together in the cinema that features gay characters and it was certainly the first one we'd seen after I had come out earlier that year.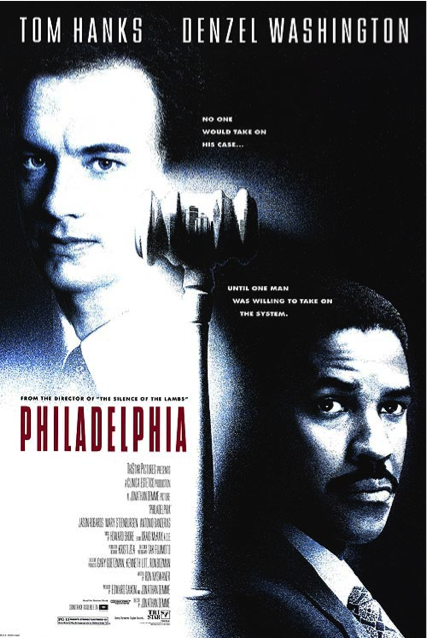 The film tells the story of a senior lawyer, "Andrew Beckett", played by Tom Hanks, who begins to suffer from AIDS related illness and then battles discrimination from his employers due to this and his subsequently revealed homosexuality.
It was pretty much the first major Hollywood film to tackle HIV/AIDS and to feature a sympathetic portrait of a gay man played by a big film star. The film tackled prejudice against people with HIV/AIDS head on as well as challenging homophobia and yet did not meet with 100% approval from LGBT people. Many of the scenes of affection between Beckett and his lover (Antonio Banderas) were cut from the film owing to sensitivities around mainstream depictions of gay love and the only way we know that the two are actually physically intimate, is a kiss in the final cut of a scene (shot from behind Banderas's head so that you can't actually see their lips touch).
There is one incredibly powerful scene, which has always stayed with me. Beckett is meeting with the lawyer representing him when he is distracted by the music playing in the background: it is Maria Callas singing the aria "La Mamma Morta" from the opera Andrea Chenier by Umberto Giordano.
Beckett turns up the volume and begins to recount the events and emotion in the aria. He becomes completely enrapt in the music as the mood shifts from melancholy despair to hope and love.
Tears streamed down my face as I sat in the cinema (and I'm pretty sure my Mum had a little weep too). Of course, being British, neither of us acknowledged this at all.  Watching the scene today I am swept up again as Callas swoops and soars.
I have long been interested in HIV and gay rights. My years of adolescence and puberty were during the height of the AIDS crisis in the 80s before any effective treatment was available (to this day I have vivid memories of Esther Rantzen putting a condom on a banana, something that may have scarred me for life). This stayed with me through medical school and I have since made a career in HIV medicine.
(The only other time I've cried so much in the cinema is when ET died.)
Tweet