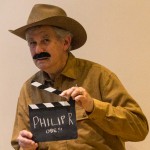 We're thrilled to be heading over to Dublin next weekend for Various Voices 2014, a fantastic festival bringing together LGBT choirs from across Europe and beyond. We'll be sharing our experiences as we go, too.
Having just celebrated our thirtieth anniversary last year, we couldn't help but feel nostalgic. We're returning to the Hackney Empire on Saturday 19th July to celebrate the best of British performers and composers – and it will be 25 years since we hosted there the 5th European Lesbian and Gay Festival of Song, now known as Various Voices.

Fourteen LGBT choirs came to London for four nights from 11 – 14 May 1989 to support the British gay movement in its fight against Section 28, a law which banned the "promotion" of homosexuality (just like Russia in 2014). As the law was championed by the Thatcher Government we called the Festival Singing The Blues Away.
The event was jointly organised by the Pink Singers and the Pre-Madonnas, a feminist choir so called because "we were famous before SHE was and we like to have our own way"! We received no government or local authority support but were sponsored by MPs Chris Smith and Linda Bellos along with Sir Michael Tippett, Sir Ian McKellen, and Miriam Margolyes.
Around 500 singers came to Hackney from Sweden, France, Holland and Germany. The local Wimpy staff wondered why so many people kept singing in the restaurant and asking for "weggie-burgers".
We finished each evening with all the choirs singing Dame Vera Lynn's famous song "We'll Meet Again". And we have! The Various Voices Festival returned to London at the South Bank Centre in 2009 and will be in Dublin from 13-16 June with 80 choirs from around the world. We can't wait!