In the first of a series of blog posts leading up to our next concert, Legends – Homage to the greats, tenor Philip Rescorla explains why David Bowie is his favourite musical legend:
Singing "Under Pressure" with the Pinkies at our last concert reminded me that it was my love of music legend David Bowie that once got me thrown out of the Coleherne, a popular and notorious gay pub in Earls Court. My partner Martin, my best friend John and I had got tickets for Bowie's 1973 world tour which reached Earl's Court Stadium on 12 May. The shows, which included songs from both his Ziggy Stardust and Aladdin Sane albums, were theatrical affairs with Bowie stripping down to a sumo loincloth, and simulating oral sex on lead guitarist Mick Ronson's instrument!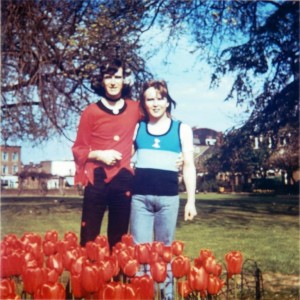 To get in the spirit of the occasion we decided to wear make-up just like Bowie did on his album covers and minced gaily into the Coleherne for a pre-gig drinkette. To our bewilderment the barman refused to serve us as "only women wear make-up (sic)". Oh the irony: the Coleherne had prided itself on attracting a bohemian clientele in the 1930s before becoming a gay pub in the late fifties. In the event we popped into the ABC Café down the road where the tea ladies loved our look.
The Coleherne's attitude was even more bizarre when you remember that Bowie had declared himself bisexual in an interview with Melody Maker in January 1972. Later that year Bowie, with flaming red hair and a skin-tight body-suit, appeared on BBC's Top
of the Pops with his song Starman, watched by 14 million people. Last year, Dylan Jones editor of GC Magazine, published a book arguing that this remains a crucial moment in cultural history. It certainly had a huge impact on the fledgling gay community and made it easier for people to make tentative steps out of the closet, if only as Bowie fans!
More recently he has underplayed this aspect of his life but that's not surprising. Bowie has reinvented himself many times over the years (as musician, style icon, artist and actor) as revealed in a major sold out retrospective at the Victoria and Albert Museum last year.
I still play his albums regularly and remember when "Ziggy played guitar" and the Coleherne, now no more, didn't like men with make-up.