The Pink Singers trip to Warsaw to sing with our friends Voces Gaudii was our first trip abroad in over two and half years. Tenor Will gives us a run-down of all the exciting things that happened over our four-day trip.
Two years ago, I was attending a Pink Singers rehearsal over zoom alone in my flat. It had already been a tough 3 months, having to move out of London and move back in with my mum. I was away from friends, alone with my own thoughts and separated from a community who I had only just joined, still riding high from my first pinkies concert at Cadogen Hall.
Thankfully, each Sunday rehearsal added a little joy to my isolation and kept my going week-to-week. The team running the rehearsals also would share videos from the pinkies past, and in this particular rehearsal we were watching the video of the Pink Singers marching with Rainbow Voices Mumbai. It was obvious how meaningful this trip was to those who went, and looking at all my chosen family smiling, laughing and swapping anecdotes about trips past filled me with hope for the future.
Well, after over two years, the Pink Singers travelled to Warsaw to sing with Voces Gaudii. We have been in communication with the choir over the last few years and have been lucky enough to have the opportunity to speak with them and learn about their choir online. As an LGBTQ+ community, it is so important to understand the history and community of our global family. Whilst our stories may differ based on the culture, history or regime, we all share in a perseverance for progress, safety and equality. What I did not expect was to have so many personal stories in common with members of the choir, not to mention the amount we all giggled together!
On Thursday, we had our first meeting with Voces Gaudii in Ramona Bar. It was so lovely to meet the members of the choir and the energy was electric. Our hosts had prepared traditional polish snacks and, as was the case for most of the trip, I am pretty sure I spent the evening with food close by. In true pinkies fashion, it did not take long before we were all singing in both Polish and English, and it was amazing how quickly the two choirs blended their voices.
Friday was concert day. After a lovely morning with the pinkies exploring the old town of Warsaw, we travelled to Kino Elektronik ready to perform. I am sure that it was a concert that none of us will ever forget and Voces Gaudii blew us all away. The weaving of beautiful traditional Polish anthems, to the power house performances of Muse's "Uprising" and the particularly camp rendition of the Spice Girls "Wannabe" were particular highlights. However, performing "Born This Way" with Voces Gaudii blew the roof of the building! We spent the rest of the night in a local LGBTQ+ karaoke bar, dancing and singing the night away in metaphorical (and literal) perfect harmony!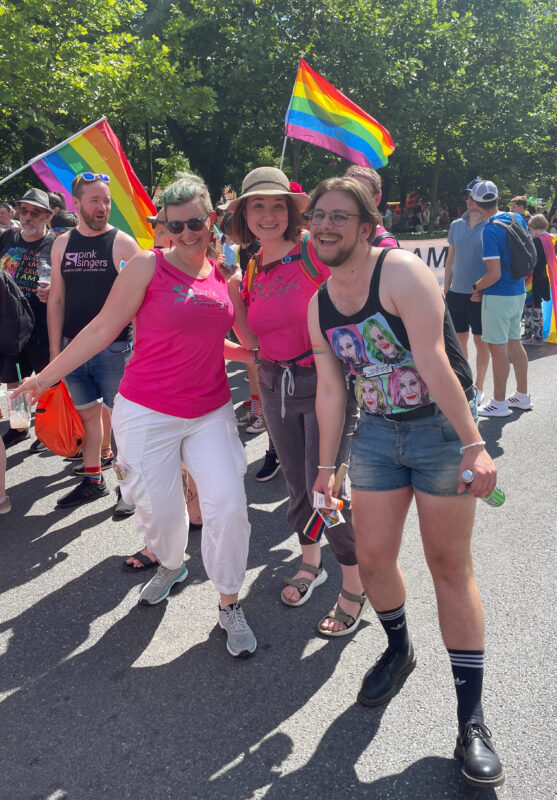 On Saturday we marched in the Equality March. Although no official figures have yet been released, we were informed that it was the largest LGBTQ+ event in Warsaw to date. This was my first pride-like event that I have marched in, and it was particularly momentous to see the happiness emanating from the community. After the march we went to Lunapark, a wonderful and wacky hybrid between a pop-up festival, a drag circus and a community meeting place. As someone who loves drag, it was incredibly special seeing performances informed by Polish culture, both historically, politically and with their own queer reference points. I have to thank the members of Voces Gaudii attending the event, who would whisper in my ear the context for every act so I could better understand what was happening!
Finally, on Sunday we were taken on amazing walking tour of Warsaw run by the fantastic Maciek, which explored the LGBTQ+ history of Poland. It was great to hear about amazing people from history such as the lesbian poet Maria Konopnicka, or about the uprising against queer oppression outside a squat in 2020.
Looking back on the trip now, I completely understand why singing around the world holds a special place in so many pinkies' hearts. Finding my community in the UK has been incredibly moving, but finding community abroad with people who I have laughed, cried, danced and sang with is not only powerful in its social activism, but it is one of the first times in the last two years where I felt totally myself, supported by a community of incredibly kind and loving people. Thank you so much to Voces Gaudii for making us feel so incredibly welcome, and I am excited for a summer of more gigs with my chosen family.
Will, Tenor