2017 marks the 50th anniversary of the decriminalisation of homosexuality in England.
Unfortunately, a version of this Victorian law (Section 377) remains in place in the Indian Penal Code, criminalising tens of millions of people.
The year, the Pink Singers, London's LGBT community choir, is highlighting this injustice with a year-long series of events.
---
Rainbow Voices Mumbai perform, celebrate, and protest at Pride in London, 2017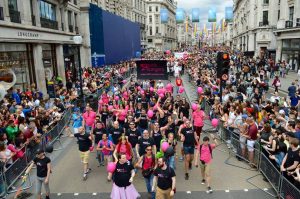 Rainbow Voices Mumbai are join us at the march, and in performance on stage at London LGBT Pride on Saturday 8 July 2017.
They will also sing with us at our summer concert on Saturday 15 July. 
---
Ways you can support us
You can help us with this project!
---
Visit to Mumbai and joint performance
The Pink Singers travelled to Mumbai in January 2017 to join forces with India's first LGBT choir, Rainbow Voices Mumbai.
We performed jointly at the National Centre for Performing Arts in Mumbai on Friday 27 January 2017. Below is a short video of that concert.
We also joined hand in hand with Rainbow Voices Mumbai at Mumbai Pride, Queer Azaadi Mumbai.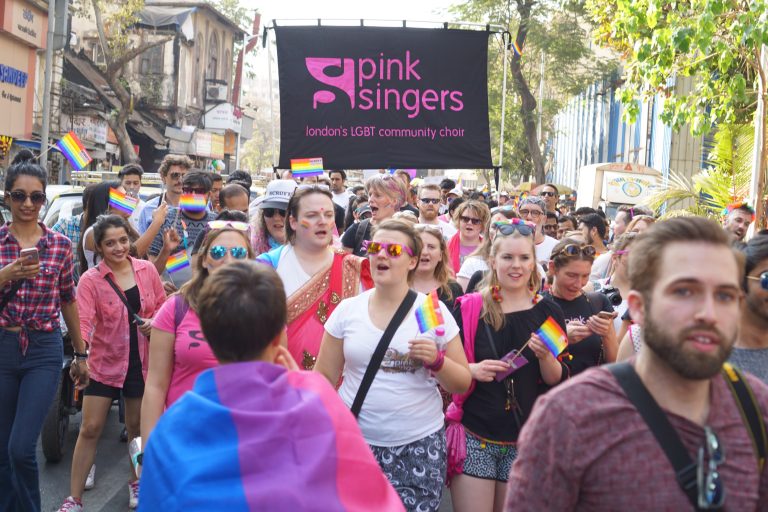 Mumbai Musings
We'd love to tell you about the amazing time we had in Mumbai! Click on the links below to read some of our blog posts:
"The Pinkies crossed the ocean to high-five and greet us like visiting family. They reminded us of the sublime words of John Mayer and Katy Perry, 'You love who you love who you love'." Read more on what RVM's  Siddhy had to say after reflecting on his experience following the Pinkies' visit to Mumbai… 
"Singing with and listening to the members of Rainbow Voices Mumbai was truly uplifting. Being able to spend time singing, listening, talking, and sharing stories and experiences made me realise that although we live many miles apart, we can still find common ground". Click here to read Pinkie Claire's blog.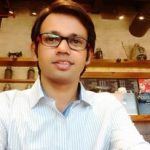 "We felt accepted as we declared to the world, "I was born this way and I am not ashamed". RVM member Aniruddha tells us about meeting the Pinkies for the first time, and feeling uplifted in the battle against Section 377, the law which criminalises homosexuality in India. Read more…
"The joint "We Shall Overcome" concert was an emotional rollercoaster for many of us: every song sung by both choirs took on an added significance. When we sang an a capella version of "We Shall Overcome" together in English and Hindi, it was a moving show of defiance and solidarity from which I could not hold back my tears". Pinkie Hsien shares his experience.
---
Queer India Today Seminar – Q&A session – October 2016
A big thank you from the Pink Singers to all our speakers at our Queer India Today seminar, which took place on Sunday 16 October.
Unfortunately, we ran out of time for a proper question and answer session, however all our speakers have kindly agreed to address your questions over on the discussion on the event page.
If you would prefer to post anonymously, please feel free to email hsien.chew@pinksingers.co.uk and he will gladly post the question on your behalf.
---
Thanks to
With thanks to the Silicon Valley Community Foundation and to Rigour Research for financial support to date.
---