The Pink Singers ran a year-long project to highlight LGBT rights in India, in partnership with India's first ever LGBT choir, Rainbow Voices Mumbai.
What were our goals?
In 2015, we made contact with a brand new choir in India, Rainbow Voices Mumbai (RVM). We heard about their passion for making music, how they work together and support each other, and their struggles in a hostile environment for LGBT people. We were inspired to reach out the hand of friendship.
As a charity the Pink Singers has worked with many LGBT choirs in the UK and around the world to support their work, to march together in Pride and to sing a shared message when words alone are not enough.
In India, section 377 of the Indian Penal Code criminalises homosexuality, with a version of the same law which existed in the UK until 1967. It was introduced under British rule in 1862 and to this day carries the threat of a decade in prison, and daily fear and discrimination. Individuals are blackmailed by the police so that, in exchange for money, their secret will be kept.
"This space, as a bisexual woman is a safe space for me. When we're singing, it's the only moment we feel ourselves." – Manasie Manoj, member of RVM
So together with RVM, we planned a project to raise awareness about the reality of being queer in India; sharing music and culture by performing together in both our home cities. We aimed to:
Raise awareness about the status of LGBT rights both in India and the UK, encouraging communities from both countries to support equal rights and status for LGBT people.
Share music and culture of the Pink Singers with RVM, and vice versa, encouraging the choirs to develop and grow, to give LGBT people a space and a strong community to support vulnerable people at risk of isolation and harm.
Present joint concerts to generate positive press coverage in India and the UK, raising RVM's profile, helping to establish their music as a vital part of the city's cultural offer.
What we did
Part 1: Queer India Today Seminar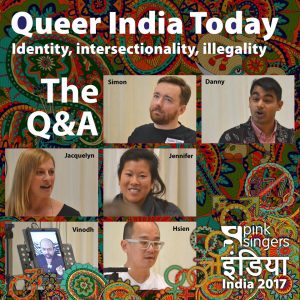 We organised a seminar featuring three academics from the School of African and Oriental Studies in London and members of the Pink Singers and RVM (by Skype!).

This helped us understand the similarities and differences between us, the language used, the history of section 377 being repealed and then re-introduced 4 years later. In the early stages of this work, this was important, to know just what the situation was in India, and how, if, we could help.
Part 2: Visit to perform and march in Mumbai
In January 2017, 39 Pink Singers visited Mumbai and finally met RVM in person. They welcomed us to their city, we shared stories and experienced Pride in a city without acceptance, where the participants were celebrating, but bystanders looked on, seemingly not understanding why we were there.
Our joint concert "We Shall Overcome" at the prestigious National Centre for Performing Arts was sold out, including emotional joint renditions of the title song, and "Born This Way" by Lady Gaga. The songs took on new significance in the context of our project. This was the first time RVM had organised a concert of their very own. Ashish told us:
"it brought out leadership qualities, creative and administrative abilities of choir members. We were struck that almost no families came to support the concert. One RVM member told how his parents planned to come, until they knew their son was singing with an LGBT group.
Below is a short video of our joint concert at the National Centre for Performing Arts in Mumbai.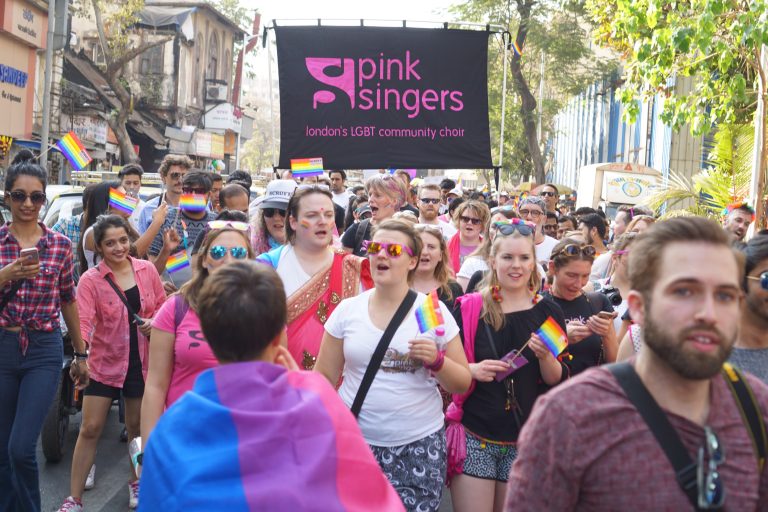 We also joined hand in hand with Rainbow Voices Mumbai at Mumbai Pride, Queer Azaadi Mumbai.

"The Pinkies crossed the ocean to high-five and greet us like visiting family. They reminded us of the sublime words of John Mayer and Katy Perry, 'You love who you love who you love'." Read more on what RVM's Siddhy had to say after reflecting on his experience following the Pinkies' visit to Mumbai…
"Singing with and listening to the members of Rainbow Voices Mumbai was truly uplifting. Being able to spend time singing, listening, talking, and sharing stories and experiences made me realise that although we live many miles apart, we can still find common ground". Click here to read Pinkie Claire's blog.
"We felt accepted as we declared to the world, "I was born this way and I am not ashamed". RVM member Aniruddha tells us about meeting the Pinkies for the first time, and feeling uplifted in the battle against Section 377, the law which criminalises homosexuality in India. Read more…
"The joint "We Shall Overcome" concert was an emotional rollercoaster for many of us: every song sung by both choirs took on an added significance. When we sang an a capella version of "We Shall Overcome" together in English and Hindi, it was a moving show of defiance and solidarity from which I could not hold back my tears". Pinkie Hsien shares his experience.
Part 3: Performing on stage at Pride in London, 2017
The final part of the project was the most complex, but in many ways the most important. After all the fundraising efforts, Skype meetings and long conversations with the UK visa office in Mumbai, we succeeded in bringing 11 members of RVM to London. Most of the group had never left India before so every aspect of the visit was new and exciting.
We hosted the choir in our homes, showed them the sights of London and shared Pride week together, in our city full of rainbows.
"The first time ever I flew across oceans and lands so far beyond my reach to explore freedom and equality"
It was a pleasure to bring Rainbow Voices Mumbai to the Pride in London stage in Trafalgar Square: where all of London fell in love with them too.

As a finale to the project, Rainbow Voices Mumbai also joined us for our summer concert at Cadogan Hall and performed to a packed audience of 800, receiving multiple standing ovations.
What was achieved through this work?
The UK partially decriminalised homosexuality in 1967, and since then we've come a long way in gaining acceptance, most recently with legalisation of same-sex marriage in 2013.
In London, RVM members could see how life could be, with freedom; it gave them hope to see same-sex partners living openly together.
They gained renewed determination to improve the situation for their community in India. Two singers, Anand and Mak, sat in a restaurant in Covent Garden holding hands and talked about how in India they could only do this at home when nobody is around, for fear of being seen.
They saw the support shown across the city for our Pride celebration, with businesses and tube stations emblazoned with rainbows in support of our freedom.
"It is soothing to imagine those who're free, liberating to meet them" – Siddhy
Working alongside the Pink Singers was a learning experience for RVM, in rehearsals and preparation for our summer concert.
"It made the singing more effective and everyone leaned towards getting better to share the stage with you all". – RVM member
They have returned to India with new ambition: planning to grow the numbers in the choir, to perform at queer events and to be known for their music, to inspire others to use music as a tool to spread awareness and join in the fight against section 377. They want to do more to highlight LGBT rights and visibility in India, to make their country more diverse and inclusive of all.
Media coverage
Interviews with members of both choirs during London Pride, on New Delhi TV
We achieved our goal of raising awareness of this issue, with TV, radio and print pieces as well as online articles and blogs in both countries. Talking about the issues and their experiences boosted the confidence of choir members to advocate for their rights and hopes for the future.
"It has made me stronger; a firm believer and an optimist with regards to the support we can achieve. Despite all the hurdles we're determined to be what we are and make a difference to the world in every possible way we can." – Ashish, member of RVM
Reflecting on the project
The challenges we faced
We aimed to bring every member of RVM to London although we encountered issues with visas, which meant that unfortunately not all members could join us. We countered this by including members left in Mumbai through a social group on Facebook and asking them to contribute to blog posts and media articles for the project.
What is the future of the project?
After this experience, RVM are more well known in India and have been featured in a number of news pieces about section 377. They continue their fight to effect change for LGBT communities in India, with the Pink Singers' support from the UK. On a local level, they plan to grow the number of people in the choir significantly over the next three years, to build their community and profile. They aim to inspire others through their music to fight alongside them for equality.
The Pink Singers will stay in touch with RVM, supporting when we can with the development of their community, and in their plans to achieve equality.
On behalf of the Pink Singers and Rainbow Voices Mumbai, THANK YOU for your support in making this project happen. We couldn't have done it without you.
Want to support us financially on an ongoing basis? Please take a look at joining our Friends scheme.
Thanks to

With thanks to the Friends of the Pink Singers, the Silicon Valley Community Foundation and to Rigour Research for their financial support to make this project a reality.
Timeline datestamp: 16 January 2017