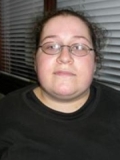 I felt rather sorry for the people who had to share the train carriage with us on the 15th of July 2006. The Pinkies were on our way to Leeds and had pretty much taken over a whole carriage on the train. I fell asleep for a bit and was woken by the melodious sound of people practising their parts for Catch a Falling Star.
We finally arrived in Leeds and all piled off the train where we were met by man holding a large red feather duster over his head. We followed the feather duster on a walk around Leeds till we got to the Cactus Lounge where we found our hosts and a buffet lunch waiting for us.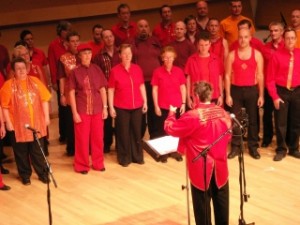 The concert itself was brilliant. We were really, really good, if I say so myself, and everyone I talked to really enjoyed it. We all overacted wonderfully and gave Tragedy a good send off. Never again! Gay Abandon were also amazing. The Italian echo song, O La O Che Bon Echo was brilliant and I really liked Crazy Little Thing Called Love as well. The Gay Abandon Band was great. As a finale, both choirs sang Catch a Falling Star together.
The after-show party was back in the Cactus Lounge, which was nice and relaxed. I spotted two men ballroom dancing in the corner, and somehow got involved in a plot to match-make for two of the few straight people in the room, which seemed to be going well when I left with my host, Jackie, and Hester and Judy. We were staying in the most amazing old house with an unbelievable number of bedrooms, so we all got our own room for the night, although the teenager's rooms were a little scary.

On Sunday, we went to a beautiful park for a picnic. We went on this little tramway thing, and got ice-cream and sweets at the top. And then, too soon, it was time for all us Pinkies to start making our way home. We took over another train carriage on the way back. James amused us and some random kids by doing a magic show, and some of us did some crosswords and played solitaire. Then we were back in Kings Cross and it was time to say goodbye till September. How ever will we cope?
by Mikki
Alto