On 19 May a group of Pinkies and their friends gathered outside Southwark Cathedral. Were we going to bash the bishop? No (Southwark Cathedral is known as being gay friendly), but following the popularity of Kay's Big Pink Hunt last year the basses had decided to have a treasure hunt for their fundraiser. The setting would be the Thames path heading westwards, more or less (less in the case of some teams; see below).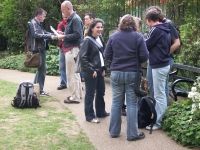 As the last hopefuls dashed into the crowds at Borough Market (hee hee) Mark and I sauntered off to get a picnic and wend our way gently to the finishing point. On our way we rang 'The Fluffs', the first team to leave, to see how far they had got. We needn't have worried, they were going mental in the Tate Modern. A potentially very competitive team, one 'Fluff' made the mistake of accusing us of giving misleading information. They were the first team to drop out, needing to go and get changed for Glyndebourne (darlings)!
One other team were to drop out: 'Doctors and the Medic'. Oh dear, they'd given up the will to live. Perhaps not surprisingly, the first to the finish, outside the Museum of Garden History (no, we'd never heard of it either), were 'Kay's Big Posse.' They scored 22 out of 24 and got an extra three points for being the quickest team, in a breathtaking 2 hours and 38 minutes, making them the clear winners. Unfortunately one of the clues had disappeared between our setting the questions and the day of the hunt. This led to a lot of aimless wandering around, and long finishing times. One team was more aimless than others, and deserves a special mention. In last place came 'The Prince Carols'. They scored 6 out of 24 and had 3 marks deducted for making three phone calls when they were helplessly lost. They even lost 'Prince Carol' who went off to watch the footy. Their first call was from Trafalgar Square. Were they on the right track? No. They then caught a taxi to another wrong place. Finally they walked right past the end point without seeing us and ended up at St Thomas' Hospital (though not in A&E). I think a fairy must have made Mark and me invisible, though only to one team.
The winners walked off with £40 of theatre tokens, bottles of booze, a flash disk and lots of books (the latter thanks to Andy Mitchinson's kind donation). 'The Prince Carols' got an unauthorised biography of Britney. All in all we made (need to check takings with Annie) for the choir, and all of us had a bit of fun, one way or another.
by Philip
Tenor
Tweet