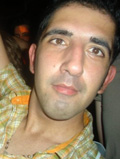 Jukebox Saturday NIGHHHHT! Sorry, I can't stop myself from singing the Pinkies songs! Actually, I cant stop singing in anyway… In fact, you can find me singing everywhere, from the stereotypical singing sessions in the shower – though I try to avoid it during the early hours as I don't think my housemates would appreciate it! – to even singing while walking in the street. Yeah, if you see a handsome Mediterranean bloke singing, its me!
Back home I used to sing in all sorts of stuff, from fundraising choirs, to musicals, to bands, to weddings and even as a soloist. Hence I couldn't imagine myself moving to London and not sing at all. I tried different activities including a local musical group and a church choir, but they were too boring for my liking.
Until one day, in the very beginning of January '07, I received an email from the Pink Singers asking me if I want to join in for rehearsals. Only the thought of it sounded fun. A gay choir! We don't even think of something like that in Malta! And there I was, on a Sunday afternoon walking towards the Royal Academy of Music. How cool is that! I was supposed to meet Lynne, the chair, for a warm welcome, however I was late as always! Entering the rehearsal room was a bit intimidating as I didn't know anyone, however I sat next to two new members by coincidence, with made it easier. It didn't take long for the Pinkies to break the ice as I was welcomed immediately. I couldn't believe it – a whole room filled with gay singing angels!
It seemed unreal at first. I was ecstatic after the first rehearsal, such a blast! And to top it all, I was dragged to a local pub after rehearsals and ended getting home half drunk but with a big smile on my face! I knew this was the choir for me! Following my second rehearsal, I had my voice check. I was so confident that I can make it that I was first next to the piano in front of Mladen and Michael. All my confidence went a bit down the drain as soon as I heard the first scale notes, however a bit of excitement doesn't harm anyone.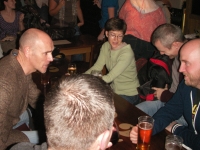 The following Thursday, while on my way home (following a gruelling house hunting session) I received a phone call from Lynne. Much to my dismay, I couldn't hear her properly as I was on the underground, hence I wasn't sure if she was inviting me to join the Pinkies or telling me not to. But in fact she was. I couldn't believe it; I was going to join the Pinkies!
Much to my horror, I've spent the following three weeks locked up at home due to a severe chest infection. I couldn't even speak. And there I was, panicking about the thought that I was just accepted to join a choir and I've missed three rehearsals in a row! Call it commitment! However I will never forget the day when I went back to rehearsals and was given a warm welcome back by all the Pinkies. Some of them even knew my name already, much to my surprise!
Loads of rehearsals later and there I was, oozing confidence, guessing people's names – it aint easy learning sixty names at one go! – making new friends, knowing most of the songs, learning lyrics in all odd places (on the underground, in the park, at Soho Square…)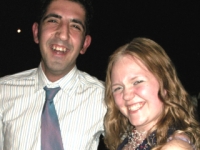 Until the big day came, our Summer Concert. It was a magical experience; we really did work hard for it. I wasn't that excited to be honest, I was more hyperactive and I guess I drove everyone crazy. I was so longing to be on stage again. And finally there I was, wearing my uniform with joy and pride (including the pink bit which I hated until the day of the concert) and singing my heart out. I've officially lost my "Pinkie virgin" status in front of everyone, and it was simply divine!
However, the Pinkies are not just about the season's concert. Few weeks later we were singing at the London Pride in front of a jam packed Trafalgar Square even though it was raining cats and dogs. We also had various gigs as well, and we will be singing abroad with other foreign choirs, both in Helsinki and in Paris later on this year.
Singing is my life, and I can never thank the Pink Singers for the great opportunity. Being a Pinkie is hard work, it is a commitment, but it's so worth all the effort.