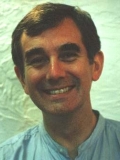 The Pink Singers were formed in May 1983 by singer/songwriter Mark Bunyan and the late Brian Kennedy, publisher of Kennedy's Gay Guide to London, to sing at the London Pride Festival. This makes us the oldest established lesbian and gay chorus in Europe. The "Pinkies" have never missed a Gay Pride march or festival since (it's hard work being gay!). In 1991 we celebrated Pride by singing on the roof of the BBC for Ned Sherrin's Radio 4 show "Loose Ends". Thanks goodness it didn't rain.
In 1993 we appeared in the Pride Cabaret tent with Lily Savage, not yet a superstar. She even joined in when we sang the protest song We Shall Not Give Up The Fight, although she may have had a different fight in mind. In May 2001 we appeared at the Mardi Gras Festival in Finsbury Park on both the main stage (closing the Festival with pop group A1 singing Take On Me) and the classical stage. When the organisers introduced a Pride rally in Trafalgar Square in 2004 it was the Pink Singers who opened and closed it (a great way to celebrate 21 years as a choir). We returned in 2005 leading a packed Trafalgar Square audience in the singing of our unofficial theme song Hand in Hand.
A community choir

The original chorus was very much based, as now, in the lesbian and gay community. The proceeds from all our performances were given to organisations offering help to lesbians and gay men in the UK.
We have supported, amongst many others, the Terrence Higgins Trust (THT), London Friend, Food Chain and the lobby groups Stonewall and Outrage, as well as singing at rallies, vigils and protest marches in and around London and appearances for World Aids Day each year. In February 2005 we sang at a London Pride photo exhibition as part of the first UK LGBT History Month. Later that year we appeared at the first LGBT Prom (average age 19, until the Pinkies arrived) where we were a big hit. What good taste young people have these days – thank goodness they'd heard of Abba!
When I joined the Pink Singers in April 1987 there were twenty members (mostly men) and the repertoire contained a lot of songs by Bertolt Brecht and Hans Eisler, Noel Coward, Tom Robinson's Glad to Be Gay (with special lyrics written for us by Tom) and a choral version of Frankie Goes to Hollywood's Relax arranged for the choir by its first Musical Director Robert Hugill. Interestingly the Pink Singers were also in the Pop Charts backing Bronski Beat on their Top 5 hit Ain't Necessarily So.
In September 1988 Michael Derrick became our Musical Director and is still with the choir as accompanist, sometimes conductor and arranger extraordinaire. He was followed by Paul Cutts in the mid-nineties and in recent years our MD has been Mladen Stankovich (who has taken the choir from strength to strength).


Right from the start our repertoire has been a wide and varied one, ranging from Abba and Brahms right through to Sondheim and the Village People. We are particularly committed to introducing new songs and music by lesbian, gay and bisexual writers, including our own resident composers. Time Out magazine described our concerts as "a little satire, a little politics and a lot of camp, all wrapped up in full throated harmony".
Although London is our home base we have performed at many events in the UK and overseas. In the early days these included the celebrated Green Room Theatre in Manchester (1989), the opening of the Oxford Lesbian and Gay Centre (1990), the first ever UK Lesbian and Gay Arts Festival in Canterbury (1991) and in recent years concerts in Brighton and Birmingham with their lesbian and gay choruses. This year we will be singing with the Leeds chorus, Gay Abandon.
Various Voices
The Pinkies have forged close links with other European lesbian and gay choirs, taking part in the third European Lesbian and Gay Festival of Song in Stockholm (1987), and the fourth in Berlin (1988). In May 1989 we hosted 14 European choirs in London for the 5th European Festival of Song (now known as Various Voices) at the Hackney Empire.
This concluded with a big benefit concert for the Terrence Higgins Trust at Sadler's Wells at which Michael Cashman first announced the formation of a gay lobbying group called Stonewall – whatever happened to them? My favourite memories of that night are the massed choir of 500 voices singing We'll Meet Again and special guest Sheila Steafel singing Send in the Clones! Also appearing that night was Barry Cryer (of Radio 4's "I'm Sorry I Haven't a Clue") and Gordon Kaye of TV's "'Allo 'Allo" making his first public appearance after being outed by the Sunday newspapers.
We have since sung at the Various Voices festivals in Hamburg (1991), Zurich (1993), Groningen (1995), Munich (1997), Berlin again (2001) and a very successful appearance in Paris in 2005 (where we received a standing ovation). This was our second appearance in Paris. In July 1998 we sang there in a "Three Continents Concert" with choirs from Sydney, Australia, and Atlanta, USA. Later that year we visited Dublin to sing with the Dublin lesbian and gay chorus, Gloria and in November 1999 we visited Geneva to sing with their local chorus Choeur Homogene.
The Pinkies Stateside
In 1990 we became the first European lesbian and gay choir to sing in America when 18 of us visited Florida, and the Mayor of West Palm Beach named Friday October 26th "Pink Singers Day"! We sang in a huge converted cinema and were so good even the back row stopped what they were doing. We also visited the Health Crisis Network in Miami and did a special fundraiser for their work helping PWAs. As we sang Somewhere Out There a noisy thunderstorm erupted around us – the song never sounded more impressive.
In June 1992 we sang at the Seattle Opera House with four other American choruses in two special Pride concerts (having celebrated London Pride a week earlier). We then flew to Denver to join over 60 choirs in the fourth Gay and Lesbian Association of Choruses (GALA) festival. We returned to the USA in July 1996 to sing in Washington DC followed by the GALA 5 festival in Tampa Florida. In July 2000 we returned to the US to sing with nearly 200 other choruses at GALA 6 in San Jose, California and were one of only fourteen choruses asked to perform twice. 2004's Festival was in Montreal and, of course, The Pinkies were there making our Canadian debut.
Getting about
In June 1991 we took part in Stephen Fry's Hysteria III Benefit for THT at the London Palladium which was televised by Channel Four. In June 1993 we appeared in a special concert for the World Lesbian and Gay Jewish Conference which was meeting in London where Barry Laden in QX Magazine said we "stopped the show".

In 1994 we were featured on the London Weekend Television programme "Londoners" and in April 1995 we sang on GLR's gay and lesbian radio show. In October 1995 we formed part of the 200-strong Equality Choir backing Elton John who was in full drag singing There is Nothing Like a Dame (this was before he became one). By the next concert the women in the Pinkies were singing There is Nothing Like a Dyke (I can say "Dyke", they're my people). In May 1997 we began our long association with the London Lesbian and Gay Symphony Orchestra by joining them for their first anniversary concert "Mayhem" at the Prince Edward Theatre. We returned to the Hackney Empire in July 1998 and appeared with the acclaimed Sydney Gay and Lesbian Choir. Another highlight was appearing on the millennium night edition of the BBC comedy show "Gimme, Gimme, Gimme" (which is still repeated regularly on UK Gold).
The RAM years
In December 1998 we celebrated our fifteenth anniversary by performing to a packed house at the Royal Academy of Music (RAM) which has now become our base and we have returned every year since for our major concerts, including our 21st anniversary in 2004 where old and new members shared many happy memories (in other words, got intoxicated). These concerts have featured a variety of special guests and London audiences have had the chance to see (and hear) the best of Europe's lesbian and gay choirs.
At the time of writing the Pink Singers have outlasted Abba, A1 and the Allied Carpet Sale!