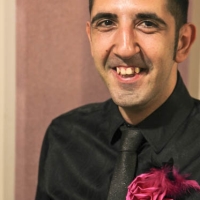 Wikipedia describes a brunch as "a combination of breakfast and lunch". For us Pink Singers, it's way more than that. Following six months of gruelling Sunday rehearsals and extra sectionals, learning music, lyrics and movements, hard work in organizing and producing the concert, various activities, some dramas and the concert itself, it's nice to have an activity where we can let our hair down with plenty of food (and alcohol) while being elated yet tired after the big concert day!
I have been a Pinkie for 3½ years now, and this was my 6th brunch. I love food and alcohol, so brunches suit me to a 'T'; however, this brunch was definitely my favourite yet. The fact that we performed what was described by the audience as our best concert to date certainly helped the good times flow, but what made this event more special was the fact that this was by far our most intimate brunch ever.
I walked in at the Retro Bar (2, George Court, London) at 2pm, feeling excited and a bit nervous. Sally 'la diva' Ann was already at the bar mingling with the bar staff and being her gorgeous self. I helped Do-Liang, the brunch organizer, to set up the place and that's when the Pinkies, and the beautiful food, started rolling in. Nathalina 'the cupcake queen' always treats us to a nice surprise, but she outdid herself once again with her lovely mini-cupcakes; the bumble-bee ones were cute, while the butterfly cupcakes were amazingly beautiful.
The 'listening corner' was quite amusing too. Liang was kind enough to bring a recording of the previous night's concert performance, and let me tell you, it was quite entertaining watching a number of Pinkies sitting quietly in a corner while listening attentively to every single note. No frowning or horrified faces were noticed, so it was all good!
Gary 'events organiser supremo' dragged me upstairs to help him with the organization of gifts. A number of committee members are stepping down at the end of this season after a year (or two) of hard work behind-the-scenes. Gifts were given to every committee member as a big thank you while a small speech was given by the new committee member taking on their post (and humongous workload).
All the speeches and gifts were beautiful, however tears started flowing (and they're flowing again while writing this article) when it was time for Mark 'shhhh!' Winter's presentation. Mark has been our marvellous Chair for the last two years; however he is leaving the role, and leaving the choir, for pastures new. While being very excited for him and his new venture, I couldn't but notice the aura of sadness and emotion the minute a very excited Max Reuby, our new Chair, started his 'handover' speech. Mark has been an amazing and exemplary chair over the last two years: his vision, hard work, professionalism and passion have seen the choir going from strength to strength, achieving some amazing pinkie-milestones along the way. He will definitely be missed as a Chair and a Pinkie, and a friend.
Tears were followed by cheers and champagne, and the party continued in high spirits.
Going home felt like a déjà-vu. I remember clearly my first rehearsal with the Pinkies in January 2007 and how I walked home slightly tipsy but with a big grin on my face knowing that I had found what I was looking for. Some things never change. 3½ years later and I'm still waking home tipsy with a big grin on my face, knowing that home is where the heart is… and mine is with the Pinkies.