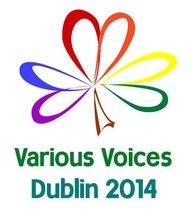 The World Cup may well be in Rio that year but the real heat will be elsewhere… It is with great pleasure that we can now confirm that the next Various Voices festival will take place in Dublin in 2014, hosted by our friends Glória LGBT choir.
Various Voices is a very important event, allowing gay and lesbian choirs from all over Europe and the world to meet and sing together, promote both musical and queer culture, and have a good time! The Pink Singers have taken part in every single 'VV', and this one will be a wonderful occasion to reinforce the ties with our fellow islanders and all our friends from Legato, the association of European gay and lesbian choirs and the organization behind Various Voices.
We expect the mysteries and legends of the emerald isle to meet our fabulous pinkie magic for that clash of colours and blend of sound and smiles we love!
So why not reflect on the last VV in London 2009, whet your appetite with the Dublin bid video, 'like' the Various Voices Dublin 2014 Facebook page and make plans for a Dublin feast in three years' time?
Various Voices Dublin 2014 – arise and sing!
httpv://www.youtube.com/watch?v=7iOlL9S8pn0