In December the Pink Singers went a-carolling to support the fundraising efforts of Marie Curie Cancer Care. We performed both at Victoria Station and in Trafalgar Square. Here Bruce and Sue tell us about their experiences.
At Victoria Station
A group of enthusiastic Pinkies arrived around the start of the evening rush hour on the eve of 14 December ready to entertain the public with our dulcet tones. It must have been the pre-cursor to the deep freeze — as although covered, the main concourse at Victoria is definitely not heated! Within a few minutes my feet were starting to feel distinctly cold. During this time, many of our throng had adorned ourselves with tinsel, a variety of other decorations and had agreed what the first carol was going to be.
And then they were off….! We launched into our first carol, a little tentatively at first and then as we got used to the acoustics, each other, the words and the music we built up to a good volume, the sopranos doing some rather impressive descants on a few of the numbers.
The commuters were of several types: 1) those who clearly just wanted to get home and scurried past trying desperately to ignore anything that may be going on around them, 2) those who saw we were singing for Marie Curie and gave us some dosh and 3) several people stopped to hear our entire repertoire and donated as well !
An hour later we had sung though numerous carols, several more than once and due to the enthusiasm of both the singers and the bucket rattlers the Marie Curie coffers were over £500 better off as a result. In spite of icy feet it was one of the hours I had spent this year doing something I would not usually do that really did feel worthwhile. Next year, an extra pair of socks though!
In Trafalgar Square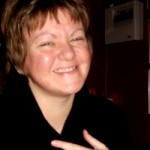 On Wednesday 22 December, a group of Pinkies gathered under the Christmas tree in Trafalgar Square for more carol singing in support of Marie Curie Cancer Care.
Despite the continuing cold and icy weather, a sizeable crowd gathered on the steps to listen, and even a couple of younger supporters who provided impromptu demonstrations of their light sabre skills.
We sang a selection of traditional favourites, including The First Noel, The Holly and the Ivy, O Come All Ye Faithful and God Rest Ye Merry Gentleman. Encouraged by the audience's enthusiastic response (and the odd nip from a well-planned flask of mulled wine, mentioning no names!) we also performed Deep River from our concert repertoire.
Towards the end, we received a request to sing Away in a Manger; we were delighted to oblige and be joined on stage by a few members of the audience during the song. In such a wonderful setting, looking up towards the floodlit façade of the National Gallery, it felt a fitting end to a wonderful Pinkie year and start to the festive season.
Thanks to Michael and Alice for conducting us, to Marie Curie for inviting us and to all the Pinkies for helping to raise £600 (making a total of more than £1,000 overall) and for a memorable Christmas moment.