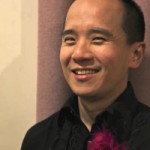 Is it too big? Can we fill it? It was with much excitement that a gaggle of us Pinkies converged on the Troxy near Limehouse last Sunday to get the answers to these questions.
The Troxy is a new venue for the Pink Singers in that we've never performed there before, but we really needed a larger venue for the Hand In Hand concert we are putting on on 13 July. In fact, the title "concert" is itself a bit of a misnomer as what were are actually organizing is a whole day of vocal workshops, followed by a concert in the evening featuring not just us, but LGBT choirs from across the UK, and our signature aftershow party, this time on a scale like we'd never done before. So, a real smorgasbord of activities for the audience to choose from then!
Stepping in through the front doors as a first-time visitor, I was totally unprepared for the sheer scale of the venue. Originally opening as a cinema in 1933, the building itself has a distinct art-deco style, although I am told that many of the features are, in fact, late 80s additions. Even so, there is a certain grandeur to how the wide columnless auditorium sweeps up to broad staircases on either side to a grand circle with both typical theatre-style seating, as well as booths with tables. My advice? Get a bunch of four of you together and book one of these seats, it is definitely going to be the most civilised way to watch the spectacle unfold.
And what a spectacle it will be! During the day we are running a series of choral workshops open to both choirs and individuals. If you are wondering what it is like to be in a choir, or have been too shy to give singing a shot, now's the time try it out. We'll be learning songs together, whipped into shape by some of the most famous names in the choral world, which the choirs and the audience will be able to sing along to for the concert in the evening.
The evening's show will bring the day's activities to a climax and is part of the Pink Singers' 30th anniversary celebrations. Hard to imagine that just 30 years ago there was only one LGBT choir here in the UK, while on 13 July we'll be joined on stage and in the audience with 17! I guess it's just a great reminder of the awesome power of music to bring people together towards a common goal. You'll hear music performed by LGBT choirs from Belfast to Brighton, each with own their different style.
Some of these choirs are pretty small, so our main concern was that in such an immense venue their sound would be lost. We needn't have worried: even with just 10 of us on stage singing, the notes carried beautifully throughout the entire space. No matter where you sit, you will be able to hear even the most pianissimo of lyrics on stage. In fact, I would dare say that this is a bit of a two-edged sword as every single error can also be heard… Murray, our MD personally checked audibility all over the balcony, which gave some of the Pinkie MDs-in-waiting a chance to stretch their wings. Well conducted Michelle and David! Don't give up your day job just yet…
So, the venue is ready, the voices are ready and we're just waiting for you. Come take part in the workshops, or just watch the concert and join the party, either way it will be an incredible day!