In the second of a series of blog posts about favourite music legends – leading up to our Legends concert on 10th January – soprano Emelda Nicholroy explains why La Streisand hits the high notes for her:
My mother has always loved musicals and I fondly remember watching some of the great movie musicals on TV with my family, often at Christmas. The Sound Of Music, West Side Story, Oliver, My Fair Lady, Fiddler On The Roof – we loved them all. But I seem to remember my mum having a particular soft spot for anything starring Mario Lanza.

Of all of those films one that really stayed with me was Yentl. For quite some time I wanted to be Barbra Streisand when I grew up. The last shot of her on the boat to America belting out a note that seems to last for about ten minutes just had me gobsmacked. While the music in Yentl is amazing and La Streisand is clearly on top form (they said she was too old to play Yentl!), looking back I can't help but wonder if something in the film spoke to me on a deeper level. She even gets the girl. (Well sort of. You'll have to watch it).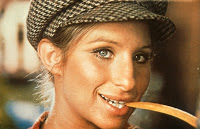 After Yentl I began to search out all the Streisand films I could find. There is a long list: Funny Girl, A Star Is Born, Hello Dolly, What's Up Doc, On A Clear Day You Can See Forever and many more. As well as singing and acting on stage and screen, her talents include writing, producing and directing and on top of that she has sold 245 million records worldwide. She got her first big break after being spotted performing cabaret in a gay bar in Greenwich Village in 1960 at age 18 and went on to win an Oscar, Emmy, Tony and Grammy by the time she was 28! She is truly a phenomenon.

I have always wanted to see her perform live but this doesn't happen all that often. In 2007 she came to the UK for the first time in 13 years but unfortunately the ticket prices were a little out of my reach. I was devastated and promised myself that that when she returned I would somehow beg, borrow or steal a ticket. Thankfully I didn't have to wait too long and in 2012 she announced that she would be coming to London in summer 2013. I knew I had to go and thankfully my wife Kate appreciated this and was prepared for the large credit card bill to follow. On 3rd June 2013 I finally made it. Sure we were up in the gods at the O2 – it was an intimate gig for 13,000 of her closest fans – but it was everything I had hoped for. Age 71 and she can still hit those notes and banter with the best of them. And they played "Barbra Streisand" by Duck Sauce during the interval. Priceless.