A new season can only mean a new management committee! Meet this year's team and find out what their magical Pinkie moment(s) has been so far…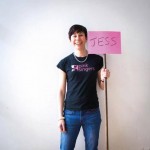 Jess: Secretary
Going to Iceland and singing with the Reykjavik Queer Choir. We were made to feel so welcome and Iceland is an incredible country.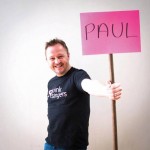 Paul: Bass Section Leader
Singing around the bonfire at Brantridge was a very moving moment for me. I'll never forget it. It was very intimate and I really felt part of something special from that moment on! Singing on the stage at Pride this year was also a slight 'pinch myself' moment.


Teddy: Treasurer
John's Clair de Lune piano piece in our 'Night at the Movies' concert. It was meant to be a 'filler' track while we transitioned on/off stage; however his finesse at playing this piece had the audience captivated. You could've heard a pin drop.

Kirsten: Marketing Director
The Lisbon trip in 2012. The whole weekend – sunshine, singing, love and laughter, concerts and (mainly) caipirinhas – really catapulted me into the pinkie family!
Jeremy: Alto Section Leader
Nicola has been slightly cruel (I think) asking for only ONE favourite moment 🙂 I have so many, from our trip to Mallorca to singing at Pride to thousands of revellers, but nothing beats being with everyone!

David: Artistic Director
My favourite 'Pinkie' moment (to date) is being invited to sing with the choir at No.10 Downing Street to celebrate equal marriage.

Simon: Chair
Campfire singing on our weekend away, being invited to countless Pride after-parties by our Reykjavik hosts, running choral and choreography workshops at the Southbank Centre's Chorus festival, helping put together our lottery-funded exhibition 'Singing The Changes'…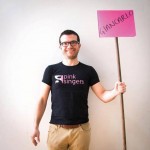 Giancarlo: Tenor Section Leader
It's a tie between singing every song we knew at the top of our lungs on our train carriage returning from Manchester, or marching with everyone in the Pride parade!
Jerome: Concerts Producer
Getting a standing ovation in Iceland as guest choir and so much enthusiasm from the audience during and after the concert, including people recognising us in the streets afterwards. Well, surely the whole Iceland trip was a favourite moment.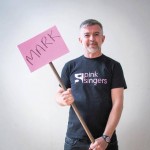 Mark: Events Officer
My first ever overseas trip with the Pinkies to Montreal in 2004.
Nicola: Multimedia Director
Singing the entire back catalogue of Pinkie songs on a train ride from Manchester to London.
Rachel: Membership and Social Secretary
I liked the anniversary ball. I liked my outfit! Also, the Hollywood glamour party. I liked everybody's outfits!
Lucy: Soprano Section Leader
Taking part in the Night at the Movies concert with lots of my friends in the audience. I loved singing all of the repertoire and the feeling of success at mastering the brilliant choreography – I even got to do a little solo 'dance' at the beginning of Dolly's 9-5!

Sarah: Communities Officer
Proud Mary-ing on the back of the float in the Athens Pride Parade in 2011. It didn't last long but for an hour or two we all felt like superstars! Athens definitely knew how to party; what a wonderful day and what absolutely amazing hosts!