Our weekends away have become a real highlight of the Pinkie calendar and this year's was no exception. Alto Kirsten gives the low down on an epic weekend of singing, stretching, eating, human hungry hippo'ing, cavorting and bonding. Thanks to everyone for mucking in and making it magic…
Well well well. What a weekend that was! We are still recovering from our annual residential, which took place this year in the aptly named Carroty Wood, in deepest darkest Kent.
We arrived on Friday evening and settled into our rooms, slightly unsure at first if we were on a choir jaunt or geography school trip. Things swiftly got underway however with soup (carrot, of course), sparklers and singing around the bonfire. What a wonderful start!

Bright and early on Saturday morning a breakfast feast greeted us – thanks to our incredible Mama Tanya, who slaved away in the kitchen all weekend to keep us going. We then got to work and were lucky to be led in workshops by accomplished soprano Andrea Brown who, amongst many things, taught us about vowel sounds, honing our oohs and aahs into perfection. I really enjoyed Andrea's approach and know we will be certainly putting the techniques we learned to use in our upcoming concert!
We also had a chance to brush up on choreography with our wonderful artistic team. I think the basses enjoyed these moves a little too much…?!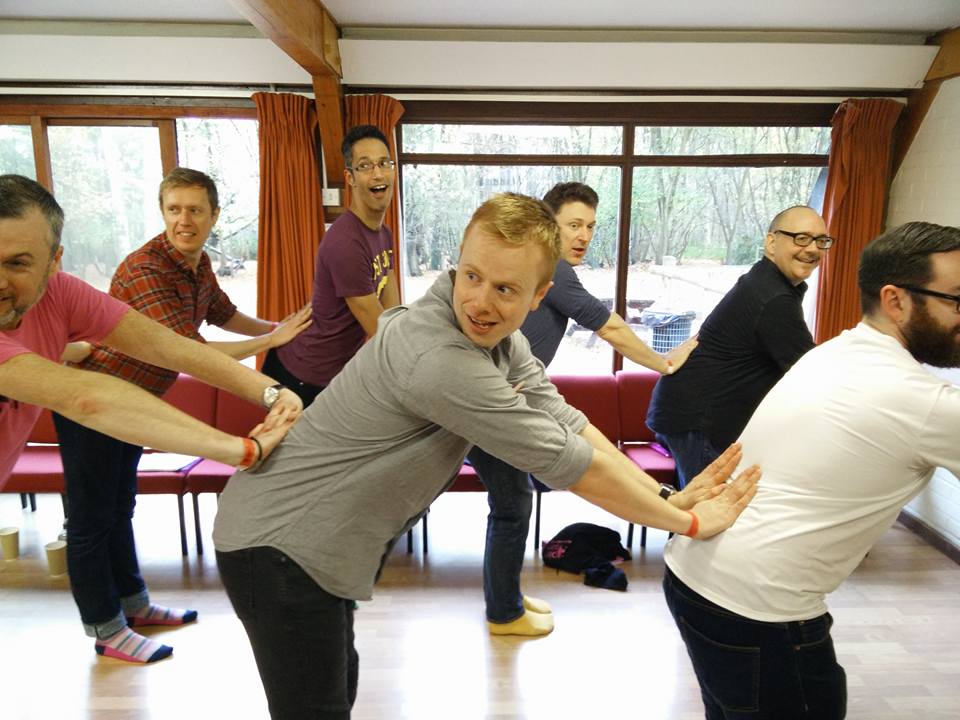 Late afternoon came the highlight of the weekend for me – the masterclass. Two Pinkies bravely put themselves forward to sing under the watchful eye of Andrea, who gave tips and teaching in front of us all. Newbie soprano Clare was first up – what a voice! It was really interesting to hear even more come out of her performance with Andrea's suggestions; her delivery of the song really changed as her engagement with the words developed. Next up was tenor Simon Harrison, who gave us all a beautiful rendition of West Side Story's 'Somewhere' – there wasn't a dry eye in the house after that one! Andrea also explained how to deal with last minute nerves and tension, and how to use emotion to make more of your performance.
After enjoying another wonderful feast – thanks again to Tanya, her helpers Teddy and Simon W, and the rest of the intrepid cooking crew – the fun really started. The evening kicked off with the 'open mic' performances, opened and compered by the fabulous Simon H, Phil and Michelle. Several excellent performances followed – what a talented bunch!
The party then got underway, with the theme "The Enchanted Wood" – what a sight to behold! We had gnomes on toadstools, red riding hoods, Robin Hoods, plenty of fairies – and of course a couple of carrots too! The revelry continued into the night, with plenty more singing, dancing and merriment.


Sunday morning didn't involve any singing – the team clearly knew better! Instead we had a choice of fun activities to choose from – from rope climbing (let's not ask what happened to Simon H's shorts in that one!), swimming, our very own Bake-Off, judged by the glamorous 'Marky Berry' and 'Tanya Hollywood', prop making for our winter concert – and human hungry hippos! With only four injuries, that one was definitely a resounding success!
The day continued with rehearsals led by our Musical Director Murray Hipkin and fantastic music team, and some more choreography practice. As always this was interspersed with plenty more sustenance – we were certainly well looked after!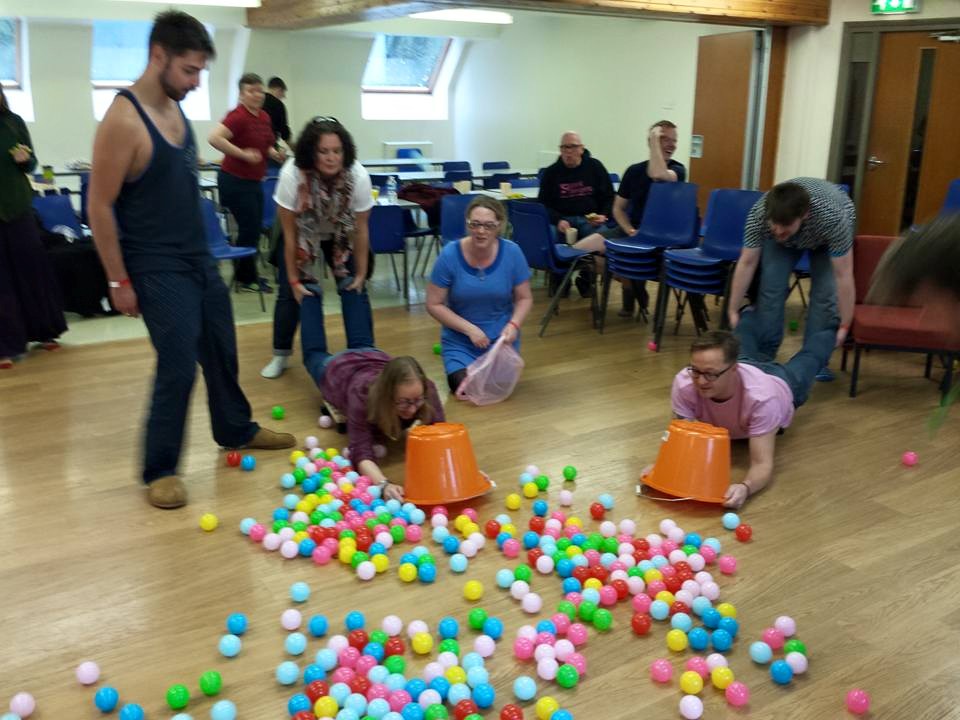 After all pitching in with the final clean up, we then trundled into our chariots to make our way out of the enchanted forest and back into reality. Boooo….until next year!
The whole weekend was put together by our fantastic events manager Mark – what an incredible job he did. We can't thank him enough! Here he is with the wonderful Tanya, who I may have already mentioned worked really hard to keep us fed and watered all weekend. Thank you both!
Click here to see more photos from the weekend!