This Saturday's concert, The Pink Singers: By Special Arrangement, is all about celebrating the sheer musical talent within our 90-strong chorus. Let's take a look at some of the Pinkies behind the magic!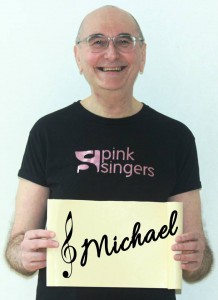 Michael Derrick
Michael has been in the choir for 29 years; his first arrangement for the Pinkies was of Tom Robinson's Glad to be Gay in 1988 – their take on the song needed updating as women had just joined the choir.
His style of arranging varies from piece to piece; he enjoys playing to the strengths of the choir and says he starts by "identifying the essential features of the song, then I try to forget all the performances I have heard, and construct the arrangement as if it were an original composition." Michael loves arranging jazz standards – one of which will feature on Saturday!


Simon Pearson
Simon has been a Pinkie since 2012, but has been arranging music ever since he started playing the piano at the age of six! His first arrangement for the choir was in fact for a string quartet, to accompany Kirsty MacColl's song They Don't Know in our 30th anniversary concert.
Simon says, "I try to understand the message and motivation behind a song, before beginning to arrange it to be effective for a 90-strong choir. The results can therefore vary greatly when comparing the piece to the original!"
Simon has quite a minimalistic style when it comes to arranging and accompianment, as can be heard on the beautiful Running up that Hill that we will hear on Saturday evening.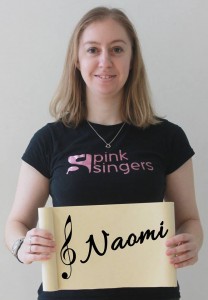 Naomi Berwin
Naomi is also musical director of one of our guest choirs – Gin and Harmonics – and first started arranging music for her a capella group in 2010. She loves the a capella style, and often uses voice in place of instruments in her arrangements. Her take on Video Killed the Radio Star is in fact Naomi's first non-a capella arrangement – although you may still hear that style coming through!
Her first Pinkie arrangement was performed last year: a fabulous version of Nina Simone's Feeling Good.


Chris Chambers
Chris joined the choir in September 2008; his first arrangement for the Pinkies was of Dylan's Make You Feel My Love in 2011, of which we will hear a revised version on Saturday. He loves to play with interesting harmonies, often involving eight parts.
Chris admits he is careful when it comes to choosing pieces to arrange: "A piece of music usually has a key factor which makes it a favourite piece of music. Sometimes that factor can be enhanced by arranging it for choir; sometimes it would be lost. For me, arranging a piece has to be about hearing it in a different light, accentuating the things I like about it or creating something which is satisfying to sing."
Chris has also composed a brand new piece of music especially for the choir, which will be premièred during Saturday's concert.

Murray Hipkin
Murray has been musical director of the Pink Singers since 2010. His first arrangement for the Pinkies was of Lisa Lan, a beautifully atmospheric Welsh folk song, in 2012. When it comes to arranging a piece, Murray likes to start with the vocals and to establish the melody, before working on the other parts. He says his style "depends on the piece – but I like to stay quite faithful to the original source."
Listen out for a few surprises in Murray's arrangement of the tongue-in-cheek Masculine Women, Feminine Men at the concert!
Tickets are still available for By Special Arrangement – click here to book yours!
Tweet