Wanna hear how 'Wicked' our 33rd birthday party was, how much 'hairspray' was used, & how many Pinkies got 'Footloose' and fancy free on the dance floor? Spot the theme yet? Soprano Michelle gives us the low down on our 33rd birthday party shenanigans…
Happy Birthday to Us, Happy Birthday to Us!
In true Pinkies style we celebrated the choirs 33rd birthday by going FOOTLOOSE and ON THE TOWN for a LITTLE NIGHT OF MUSIC and CABARET at Claphams' Two Brewers.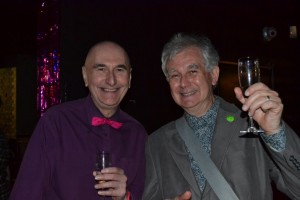 Us GUYS AND DOLLS were dressed up to the NINEs in our 'musical theatre' themed costumes in honor of our next Broadway inspired Concert – ONE NIGHT ONLY.
This is my 4th Pinkies birthday party and I never fail to be utterly amazed by the effort everyone puts in to the event. From MY FAIR LADY Rachel catering us with cake (complete with 'green icing flowing down' – a prize if you can spot that reference!) – to DREAM'GIRL Jezza ordering the fizz and decorating the venue to perfection. There are too many people to mention that make these celebrations the highlights of the Pinkies' calendars.

Our traditional Open Mic session was was hosted by the suave Master of Ceremonies Paul with his naughty banter, cheeky smile and slick hair shining from his HAIRSPRAY.
(You have to remember the singing doesn't stop after our small group gigs, concerts and weekly rehearsals. What excuse is better than celebrating our third-and-a-bit decade as London's community choir. It wouldn't be a Pinkie event without a sing song – or two, or three…).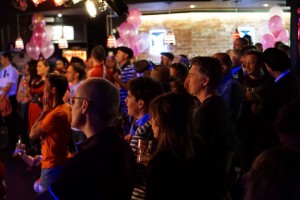 Kicking off the show was our Saz singing a little ditty (she's a FUNNY GIRL). Next up, those DIRTY ROTTEN SCOUNDRALS – small group old favourites the Baberfellas – and new kids on the block the 'Raundrettes' entertained us with some close harmony campery. All followed by some amazing and show stopping numbers from resident Tenor Divas – What a THRILLER of a night!

The final act of the evening was our very own ACORN ANTIQUE Alto leader Jeremey and Artistic Director David who embodied good old 'Barry and Freda' for a final Hurrah! paying homage to our late and great Victoria Wood. [We all agree will now begin a petition to insist we replace the National Anthem with 'Let's Do it – The ballad of Barry and Freda' so watch this space!]

There was however a very important absence from proceedings. THE MUSIC MAN himself, our Musical Director Murray Hipkin was busy tickling the ivories for another particular Diva at the Coliseum. However he did film a little video including The ENO Cast singing us Happy Birthday which was truly amazing and managed to race south of the river to catch the grand finale of the evening in full concert dress – TOP HAT missing but definitely the tails!

The SOUND OF MUSIC completely took over us. In our KINKY BOOTS and with moves like FOSSE we danced the night away until we MERRILY WE ROLL(ED) ALONG home.
We had such a WICKED evening.
We do hope you will be able to join us on the 4th of June for ONE NIGHT ONLY at Cadogan Hall where WE WILL ROCK YOU.