What do songs evoke in you? Why do we sing? Ahead of our next concert, 'SING!', we asked 10 Pinkies to describe what singing means to them:
It is easier for me to express my feelings in song than in speech. Singing lets me go through all the emotions; from joy to sadness. Singing with a choir (especially an LGBT one) is very special as you share those feelings with the rest of the choir and hopefully inspire and move our audiences. Philip Rescorla (tenor).
When Emelda and I got married the music we had chosen for the ceremony wouldn't play, but luckily there were so many of the choir there that they sang us up the aisle with L.O.V.E. so it is lovely to sing it again this season! Kate Nicholroy (alto).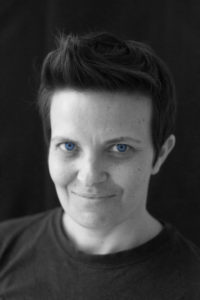 Apparently, before I could speak I was singing. A Police song was my first. Singing has been a major part of my life since. It's brought my family together, made me forget bad things and remember good things, made me cry and laugh. On the whole, it makes me very happy! Charly (soprano).

I wouldn't last without music; a restorative bathe in sound for me, restorative but also uplifting. Massive Attack's 'Protection' came out in 1994. Since then its laconic spirit has seen me through love, loss, pain and growth. It's about being strong and unique: two things I always strive to be. Jezza Donovan (alto).
Singing makes me feel better when I'm low and it's firmly entrenched in my identity. I was sung to when I was little and, in turn, I've been singing all my life. I've always liked performing with other people as well, it's a deep and unique form of connecting. I'm hooked. Jessica Cheeseman (soprano).
My work as a choral enabler is important to me because singing is physically, emotionally and socially therapeutic. It decreases stress levels, releases endorphins, benefits heart, lungs, posture, self-esteem, concentration and memory, brings people together, encourages a sense of purpose, touches souls, stirs emotions, broadens creativity and communication, crosses generations and cultures, helps to pay my mortgage and sounds quite nice when done properly. Murray Hipkin (Musical Director).
Singing has been something that's always been there for me. It's personal, emotive, and in the hardest times it makes me feel like I'm not alone. With music we can express so much, and I find singing helps me to tell the stories I'd otherwise be too scared to let out. Sophie Partridge (soprano).
When I think about music it's the songs that evoke a memory that stand out for me. My favourite song is 'Killing Me Softly' by the Fugees; I heard it for the first time in 1999, in Covent Garden market. It was very early and people were just setting up their stalls. A musician began playing on the corner of the street, and as they did, it began to snow. It was absolutely magical for a South African like me who had never seen snow before! Even now, every time I hear those first few beats, my heart goes back to that day. Another song that's engrained in my heart is McFly's 'All About You'. It was our wedding song and every time I hear it, my mind travels back to Thailand to our honeymoon. Music truly is the dance track to your soul. Ben Roets (tenor).

I love 'Aquarius'. This song was around when I was a child and became an unofficial anthem of the USA Apollo mission. It was a number 1 hit for 3 months before Apollo 11 made the first moon landing in July 1969. The first part – with the open jazz chords and unusual melody – evokes feelings of tentative optimism. We know love will steer the stars with harmony and understanding. I think this captures the mood of the USA in the 60's. To me, the song captures the promise of progress. I do wonder if progress is really just another myth among the many myths we believe, but if it is, this is one of its best hymns. Cilla (alto).

Early in my career I was dubbed by my colleagues 'the singing nurse'. It stems from a day when I was working in the neonatal unit and was caring for a tiny premature baby who wouldn't go to sleep. I was singing 'His eye is on the Sparrow' from Sister Act 2 to the little mite. Little did I know, most of the ward staff had gathered behind me in the bay. A rather embarrassing moment but one which very much defines my relationship with music and singing.
Come and see us all 'Sing!' on 14 January at Cadogan Hall! Click here to book.