On Saturday June 16th The Pink Singers will be singing songs from our 35th Birthday mix-tape. What songs would be on your favourite compilation?
---
We thought we'd take the opportunity to introduce you to a handful of the Pinkies Management Committee – those stalwart volunteers who keep the Pinkie machine motoring forward. We asked them what three songs they'd have on their mix-tape, and why.
---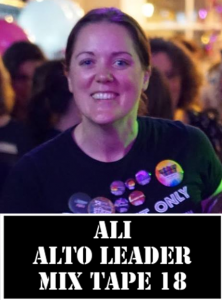 Scissor Sisters, I don't feel like dancin'. This reminds me of going to a gay night at Black Sheep Bar in Croydon in my 20s with my best friends and dancing all night, on a Wednesday night. It was so fun and I was just getting to see how fun being gay could be!
George Michael and Elton John. Don't Let the Sun Go Down on Me. Before I got together with my girlfriend I started singing this one day walking along a mountain road in Taiwan and she joined in with me singing the harmony. I loved singing with her and I've never looked back!
I Choir, written specially for and sung by the Pink Singers. If you haven't heard it, it's on our CD "By Special Arrangement" so go – buy it now!
---

Orbital – 'Halcyon'. Orbital are my favourite band ever, got into them around aged 16 when I discovered ambient and electro music. This song is a piece of genius and makes me smile every time.
bis – 'Eurodisco'. This song reminds me of dancing my pants off to their gigs so many times across the years, its such a pop tune! Hopefully I will get the chance to dance at many more gigs to come in future.
Marvin Gaye – 'Abraham, Martin & John'. This song reminds me of my mum, she loved Motown and I'd always sing and dance to their albums with her in our house. She brought so much love and light to my life, and like the song says 'the good die young'. Never forgotten you Mum.
---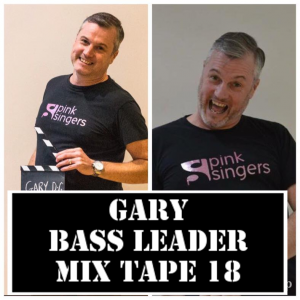 Forever & Ever (Demis Roussos). I threatened to sing this to my fiance on our wedding day, he HATES it!
Can you Feel it (The Jacksons). A disco classic that you cannot help but get up and dance to
Wow (Kylie Minogue) Love this song and it should have been a bigger hit! The Pinkies should definitely do a version!
---

We Can Do Better Than That, from The Last 5 Years by Jason Robert Brown. I could have chosen any song from this musical, or frankly anything by JRB. I love the concept of this show and the perfect way it's played out.
Don't Rain On My Parade from Funny Girl by Jule Styne and Bob Merrill. When the choir went to Manchester last August for Hand in Hand, while everyone else was at the launch party I went to see this musical at the Opera House (a much better night out by my standards 😉 ). I already knew I loved Sheridan Smith (leading the cast) but I wasn't expecting to fall in love with the show. This show recurs throughout the show, firstly as her wanting to impress her boss, and then her husband to be, and then finally as a show of female independence.
Into The Words, from Forbidden Broadway (sensing a theme yet?!). I was lucky enough to play the clarinet for an amateur dramatic production of Into The Woods which, unfortunately, and controversially, cemented my dislike for Sondheim musicals. This song provided my with some relief during a long week!
---
More coming next week! In the meantime, now is the time to snap up a ticket for our Mix-Tape concert in June. Get them now – they're hot!