As part of our Pride Month celebrations we have been highlighting the brand new feature film Rebel Dykes, which is a documentary set in 1980s post punk London. It tells the unheard story of a community of lesbians who met doing art, music, politics and sex and how they went on to change their world. It has been recently shown at BFI Flare and the Fringe Film Festival at the Genesis Cinema in Bethnal Green and will be making its way around the film festival circuit this year.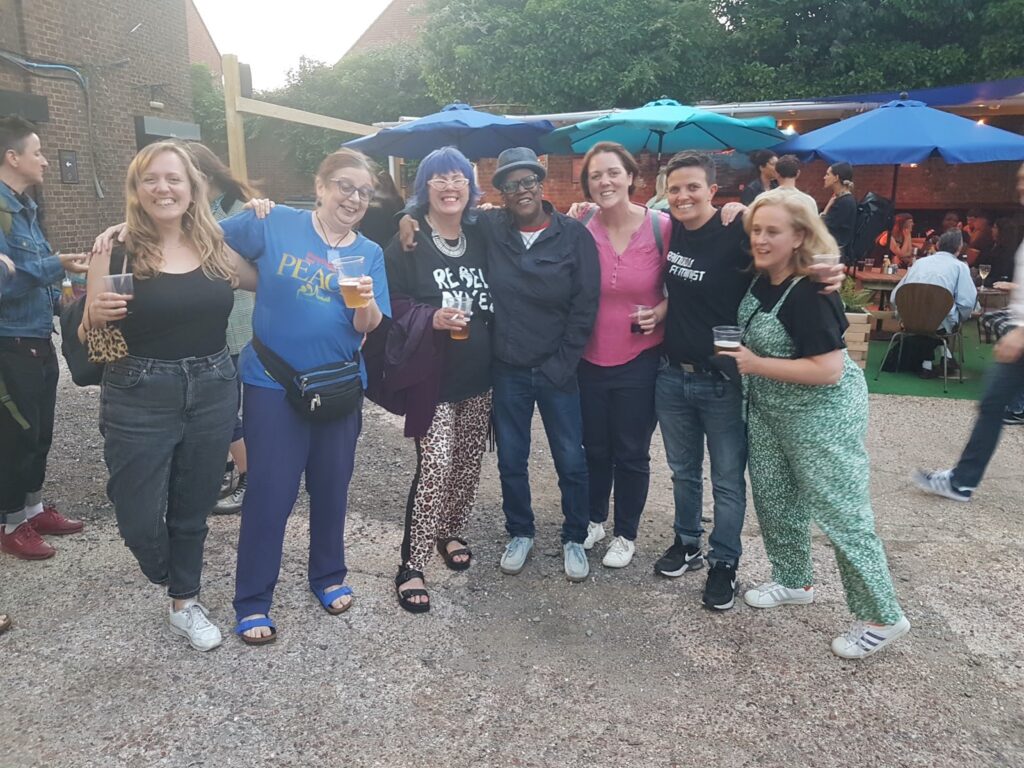 The film is a fantastic portrayal of a fiercely strong group of lesbians, proudly identifying as dykes, who were finding their place in the community and using their voice to fight for the rights of others. The film features interviews with some of the key figures of the community and also plays footage from some of the clubs and main events that occurred at the time. Some of the Pink Singers went to the first cinema showing at the Genesis earlier this month and were extremely excited to meet some of the film's leading protagonists.
Sally-Anne Smith, Pink Singers Soprano 1, was around in the 1980s and was aware of the group and even features in the film. We asked her for a few words about her experience and what led to her exciting cameo appearance:
"The Rebel Dykes is about a loose knit community of lesbians in London in 1986. Many were also involved in the anti-nuclear protests at Greenham Common in Berkshire. Many lived in squats in London. I suppose they would have been viewed as "outsiders" at the time. They lived according to their own politics and beliefs, being a lesbian was not widely accepted. Some of the film is set in "Chain Reaction" which was a Woman Only SM (sado-masochism) bar in Vauxhall. The "SM Dykes" were a visible presence on the Gay Pride marches in the 1980's. At the time, I think they would have been considered a "sub culture" in the lesbian scene, they were certainly not universally accepted (not that that would have worried them). Lesbian SM was a very contentious issue at the time, it may well still be, I honestly don't know. Coming from my own personal standpoint of feminism and non-violence, it was not something I really understood. WAS it "Violent" or "Anti Feminist"? So to try and get some dialogue going, there was a debate on the subject with a panel of "Pro" and "Anti" SM woman and a mixed audience. It was a woman only meeting and I went with a bunch of friends (of varying opinions) and when I got there Sheila Jeffreys (if my memory serves me correctly) who was supposed to be on the panel giving the "anti SM" viewpoint was walking out of the building. This left an empty chair and a request for someone to take her place on the panel. My friends seemed to think I would be a good candidate, so I walked up and sat in the empty chair. Can't remember much of what I said. I was interested in reconciling an issue which was causing contention in the lesbian/feminist movement. I wanted to find out where the "other side" was coming from. This blog ONLY represents my personal impressions of something that happened over 30 years ago. I do not claim to speak for anyone else. But that is why there is a very fleeting clip of myself in the film. Oh, and I did get to go to "Chain Reaction" after all"
The Directors of the film, Harri Shanahan and Siân A. Williams, were interviewed by LesFlicks (a social enterprises raising the visibility and support of lesbian and bisexual films and film makers) during the premiere online showing at BFI Flare earlier this year. Check out the video of the interview and find out more about how they pulled the film together and the importance of the film to the LGBT+ community.
To coincide with the release of the film, the Rebel Dykes community have pulled together the Rebel Dykes – Art and Archive Show which is being shown at Space Station Sixty-Five in Kennington, London, SE11 4PT. The exhibition opened on June 25th and goes on until September 17th 2021 (Thursday – Saturday, 12-6pm). The gallery describe the exhibition as celebrating "past and present dissident voices, those who stood boldly against homophobia, Clause 28 and a heteronormative, deeply divided and sexist society. And they did it with style and swagger". Admission is ticketed. Please go along and support and find out more about this wonderful period in LGBT+ history.