Bass Ken talks about the buzz of our last concert and how joining the choir helped him through his lowest moments during lockdown.
As I am writing this blog, I can still feel the buzz from our last concert "Gone Viral" performance at the Cadogan Hall. I can honestly say I really haven't felt this much joy in my life before and the last couple of years have been especially hard.
As an introverted gay man who has been living with general anxiety for many years, the urge to be part of a community was a big driving factor for me joining the Pink Singers. London may look bustling from the outside, but it can also be a very lonely place. Reaching out to find new friends in such a big city can be really hard for an introverted person like me and I had felt very isolated before auditioning for the choir.
I joined the Pink Singers in early 2020, just a few weeks before the world shut itself down due to the pandemic. In my first few rehearsals with the choir I immediately felt welcome. I had been so excited about being part of the choir's recording in March 2020, but then everything was cancelled for obvious reasons – the start of lockdown in the UK.
For me the whole lockdown period was such a roller coaster. Outside my day-to-day work, the Pink Singers' Sunday zoom rehearsals really kept me afloat. It gave me the motivation to keep going for another week. It may seem funny to say this, but if someone asks me about my most memorable moment during the lockdown, I would say it was those Sunday afternoon zoom rehearsals where I was literally sitting on the floor of my flat-share bedroom with my iPad. Without the weeks of online rehearsal with the choir, I don't know how I would have survived the isolation during that extended period. The first virtual project of the choir 'Fix You' was truly motivating. Despite not having met most of the members in person, I really felt I was part of the family in that video.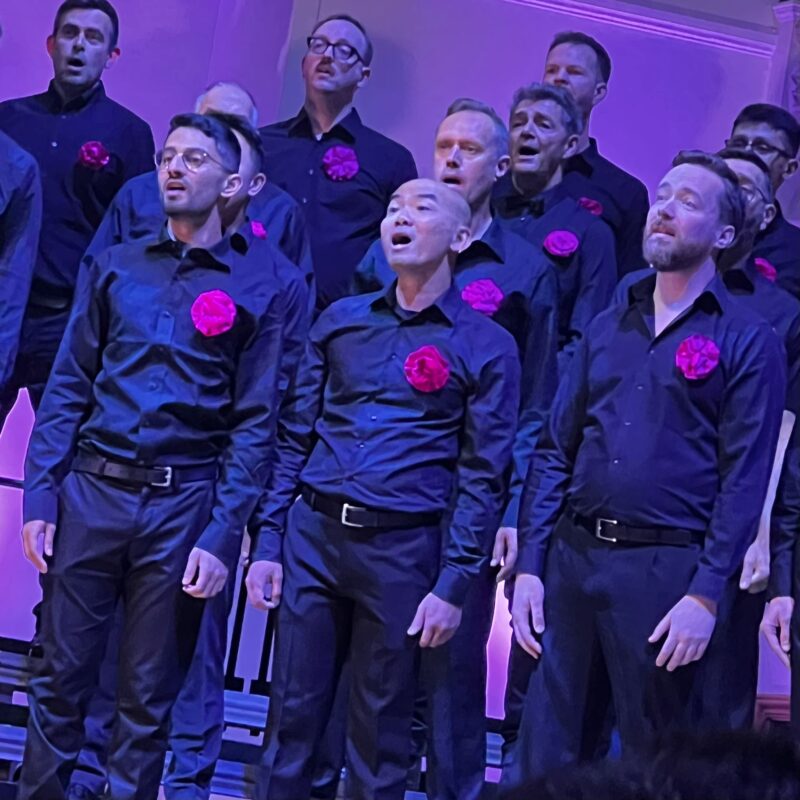 After weeks and months of zoom rehearsals, we first met as a big group again in a multi-story car park in Peckham for outdoor rehearsals (it was the only way we could get together!). That was the first time we sang Chosen Family (an arrangement of the song by Rina Sawayama) as a choir together at one place. I remember the drops of my tears as we reached the chorus, singing in harmony 'we don't need to be related to relate. We don't need to share genes or surnames…' The chorus just represents how I feel being in the choir. It was in that moment that I knew I was in the right place with my new chosen family in London.
For many people post pandemic life has been easier, but sadly that hasn't been the case for me. If anything it's been worse. The continuous working from home has exacerbated my feeling of being isolated as well as my anxiety. Reconnecting with my pre-COVID friends has been so challenging and again it has been the choir's Sunday rehearsal that have been keeping me going. At some points it literally kept me alive in my lowest moments. At these not so eventful moments, again I received the care and support from my fellow bass singers. For most, it would be the singing, but to me Pink Singers has been more than just the singing, it is the solidarity within the choir that has been so important for me personally.
I guess everything culminated at the Gone Viral performance. It was my first ever Pinkies' big stage performance. Two years is probably the longest time a newbie has ever had to wait for their first performance with the choir and I had the best time of my life that weekend. I can still feel the energy from the crowd when we sang our final song 'You can't stop the beat' as I am writing this. And it was great to have a few of my close friends and colleagues in the audience. That feeling of being able to be who I truly am, doing what I love and being surrounded by people I love is something I will always treasure.
Living with anxiety means getting motivation in life can be a challenge. I have to say however, that the performance last weekend has given me the motivational boost that has been missing for the past two years. I think I am feeling my best again. Thank you, my fellow Pinkies – my Chosen Family.
Ken, Bass 1