Alto Jezza gives us his personal account of our special recording weekend to produce our 'By Special Arrangement' album. We wouldn't have been able to do it without your help, so to each and every one of our backers, a HUGE THANK YOU!

In January 1967, David Bowie was recording his first album in what was the 'DECCA" building in north London. That building is now owned by the English National Opera, and in the January of this year, it played host to the Pink Singers recording one of their most ambitious albums to date. Whilst we may not have the fame and reach of the late, great Mr. Bowie, we're certainly trying to keep up to speed with his ability to promote equality and acceptance. Not forgetting we can easily match his entire career in terms of how much glitter is on stage during any one performance. I like to think he would have approved.
As a Pinkie who only recently lost 'newbie' status, I was as excited as I was nervous to jump on board such a large project that involved so many members and friends of the choir, including a few from before my time! I can honestly say this is the first CD recording I've been somewhat heavily involved with, but I'm secretly hoping it will not be my last. I doubt I'll convince the entire choir to do a CD every season…but you never know 😉


The recording days were a lot of work and without the wonderful Murray Hipkin at our helm it may well have sounded akin to anything 'performed' by the intoxicated rabble that appear outside my house in Bethnal Green at three o'clock in the morning. (Ok, some of the takes resembled this unique 'Dawn Chorus' but we're not using those ones, promise). Everyone sang their hearts out and maintained the work ethic and passion of any professional, which made it all the more sweet for me, as I knew where the project had started, and I couldn't have been any prouder.
How it began
On a warm summer's day in August 2015, I arrived at my first ever Management Committee (MC) meeting for the Pink Singers. It was the start of only my second season as a Pinkie, but my section had voted me in as section leader for the altos, and that meant joining in with the committee. Choir business is watched over by the MC, and, for the most part, special projects and occasions are spearheaded by its members.
The choir has produced CDs before (see our shop for how to buy them) and there was talk of a new one as the coming season was so personal to the choir. Called 'By Special Arrangement', the repertoire featured songs that had been arranged and written by current or former choir members, and some by external composers who had written tracks especially for the choir. As Pinkies past and present have a lot of talent, we were spoilt for choice. Simon, our Chair (known as 'Cher' to…well…most people) asked if anyone wanted to head up a CD recording as Project Manager. It was one of those moments where I suddenly noticed I'd put my hand up and then wondered why I'd done so.

Anyway, I'm thrilled I did. Simon is well versed in music production, and Murray is a professional with many years' experience under his belt, so in many ways my job was super simple, just making sure that the right minds were in touch with each other, and through the wonder of Skype, I was able to video call Simon and ask anything from 'What dates shall we consider for a recording?' to 'Should I have a fringe?'. I get distracted easily.
Our main concern was the financial side of things, raising the money was going to be a big task and we knew it. We looked into Crowdfunding and put a campaign together. A simple, friendly video of humble and happy Pinkies appealing for support was made, and edited by the wonderful Jess Cheeseman (also an alto like myself, y'know, just saying…).
It was a greater success than we could have imagined. We had a three week campaign to raise the necessary £5,500, and we raised it in just under a fortnight. We were both amazed and thrilled, and decided to risk a 'stretch goal' of another £1,000 in order to have a string quartet playing with us. When all was done we raised a whopping £6,952 thanks to our 145 backers. We adore each and every one of you.
Giving back
The decision to give away 20% of each sale to our chosen charities was an easy one. 10% (£1.20 from each sale) went to Diversity Role Models who are seeking to make schools and colleges more LGBT+ friendly spaces, and they're doing a marvellous job. Admittedly I'm slightly biased, as I work for them as a freelance facilitator, but it was lovely, and useful, to have a personal connection with them, especially as other Pinkies have worked for them as well. In some ways I can thank my work for them in getting me to join the choir. It amazed me how much good it did me being in the regular company of like-minded queer people (and queer-friendly allies). I realised I had a paucity of this in my life, so joining an organisation like the Pinkies was in some ways an obvious step that I needed to take, and I'm still brimming with gratitude that I got in.

The other 10% (£1.20 from each sale) went to the amazing Albert Kennedy Trust who work tirelessly to help young LGBT+ people who are homeless or living in a hostile environment, simply for being who they are. Their offices are near where I live, a stone's throw from Hoxton overground Station (a location which, I think, still makes me vaguely trendy). One night last October, I came out of the station, alone, into the freezing night air. A young homeless man, James, was sitting on the floor sobbing. He had just been slapped by a young man who had run up to him to gain momentum in his revolting assault. Sadly, this is all too common I am told. I spoke with James for a little while, and was able to give him enough money to get a night in a shelter. I'd met him once before and knew what a few nights of safety would do for him so I was happy to help, but couldn't help but wonder 'Whatever next?'
Now I don't know why James found himself homeless, I admit I did wonder, but it's none of my business. However, as I met him virtually next door to the Albert Kennedy Trust's office, it was a stark reminder to me, as I walked to my warm and safe home that night, that so many people like me can end up like James…simply for being like me. If our contribution can stop someone from ending up like James, alone and feeling unloved, simply for being like us, then that's probably the greatest success that we can hope for.
The recording weekend
In conclusion, I'll go back to the beginning… Well, the beginning of this blog post anyway. The days dawned bright and crisp, and the Pinkie family descended onto an unsuspecting West Hampstead. We brought tea, cake and birthday songs for a few of our number. In all we had a wonderful, almost celebratory, weekend whereby we revelled in each other's company and enjoyed our shared talents. The best bits about being a Pinkie really.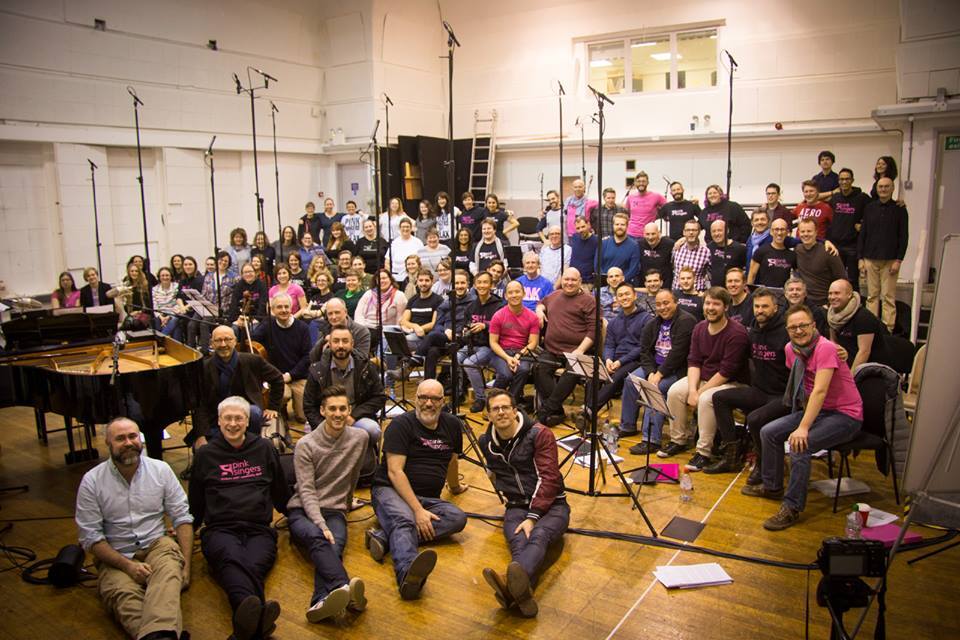 On day two I fell victim to the nasty cold I had been fighting and lost my voice almost entirely… I know, terrible timing eh?! On the upside, I had the unique experience of sitting on the outside and hearing, as an entirety, a choir and a sound that I am usually slap bang in the middle of. It was bizarre. I heard all the parts with a different ear, felt different vibrations throughout my body and heard us the way everyone else hears us. To say I had goose bumps would be an understatement. I know I'm biased, and I know we're not the only decent choir in the world, but for a moment I saw with a new clarity what we really are. Different but the same, unique but connected, ourselves and a whole. Without wanting to sound over the top, I think I sensed the 'Pinkie magic' that so many of our generous audiences have claimed to have experienced, and you know what? I think they're onto something…