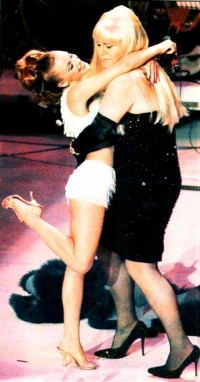 Directed by Ian McKellen and compered by Sandi Toksvig, the show included the first live performance by Joanna Lumley and Jennifer Saunders as Patsy and Eddie, Lily Savage, Marc Almond, Michael Barrymore – recently "out" – and topping the bill, Elton John, whom the Equality Choir was to accompany.
The Pink Singers formed the basis of the 80-voiced choir, which also included members of the London Gay Men's Chorus, with the Pinkies turning out a record-breaking 61 singers – our biggest ensemble ever.
We rehearsed weekly (in Aldgate) without Elton John who was then touring the States. It was arranged that he would fly in and out on the day of the concert (a Sunday) via Concorde and we would rehearse with him from noon at the concert venue. We were positioned at gallery level behind him and were able to sit there throughout the evening.
We jointly rehearsed I'm in Love With a Wonderful Guy, and were most surprised and intrigued when Kylie Minogue joined him and they sang Sisters. He completed his set with "There is Nothing Like a Dame". The latter song also proved to be a surprise – what a strange combination we whispered amongst ourselves, but all was explained when he appeared that night dressed in enormously high heels, a black cocktail dress and waist-length hair – it was a drag act!"
Read more about the show on the Royal Albert Hall website.
Bill Barry
Tenor
Pinkie since 1995
Timeline datestamp: 22 October 1995