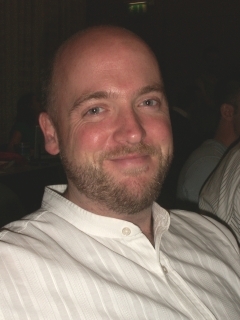 Hsien sat down with James to have a chat about James' experience of Still Misbehavin', our winter concert 2006 and his debut with the Pink Singers.
Hsien: I'm Hsien, the webmaster.
James: And I'm James, I was a new member last season.
H: Absolutely, we're doing this because James is going to give us his report on what his first choir concert was like.
J: And it was brilliant! I really, really loved it. I was a lot more nervous than I expected.
H: I think that most people have nervous jitters coming up to the concert. I remember my own first concert four years ago – it was terrifying.
J: Yes, terrifying but really exciting at the same time. Having everyone dress up in black and their bit of pink, all that added an extra element. And having friends and all sorts of important people come see the gig, I found that quite exciting.

H: Did you have a lot of people come along?
J: I had about ten people come, a mixture of friends and from work, and it was good, it went down really well with them.
H: They enjoyed it did they?
J: They thought it was a lot more professional – that's what they said – than they had expected, and lots of good comments about how really people like the fact that we have a big range of stuff. There was the camp 'Wash That Guy (sic) Right Outa My Hair' and the folksongs mixed. People really liked that.
H: Excellent. Any particular song that you really liked?
J: I must be one of the few people in the choir who actually really liked 'Early One Morning'.
H: Yeah, I absolutely hated it, but there you go!
J: So that was one of my favourites and I really loved 'Boogie Woogie Bugle Boy'
H: Yeah, I liked that one too.
J: I don't think there were any I didn't like. I actually quite liked the 'Birdie Birdie' song (Brahms Love Song Waltzes Op. 52 song 6) as well.
H: That's when the tenors got to shine, you know.
J: Yeah, I don't know whether we did or not!
H: Well, I hope so!
J: I think I have got to work on my moves.
H: The worst thing is being caught on video putting your hand up at the wrong time. I am totally guilty of that.
J: I'm sure I probably did as well. Am I going forward or not? But I'm going to work on it.
H: Anyway, fantastic to see you back this season. And, new members are welcome. We need more new tenors, more new basses, so if people are interested, then please let our new member's contact know. Fantastic, thank you very much.