A special dash of ooh-la-la
All you need for a magical night out is three ingredients: dazzling singing, a supportive audience and a special dash of ooh-la-la. Apologies to our French guests for that dreadful reference, but their presence really made Amour And More, our winter concert one of the most memorable ever!
Perhaps it was because we recently performed with them in Paris, and were therefore already good friends; perhaps it was because Equivox have a really laid-back musical style and therefore complement the Pinkies really well. Either way, our Parisian counterparts set the tone for a really enjoyable performance.
It all began the day before when they arrived en masse via Eurostar into St .Pancras. Lynne had her Various Voices placard from 2004 with her and, short of bursting into song, we couldn't have been more obvious. Mind you, Equivox – all sixty odd of them – were hard to miss too. Babette, their zany chef de choer, simultaneously bouncy from arriving in London, and slightly panicky in asking for directions to West Hampstead, managed to leave her luggage behind in the arrival hall!
Simon and I were had a couple of members from Equivox as guests. One of them, Sebastian, had hosted us previously when we were in Paris, so it was a great opportunity to thank him for his hospitality. We had such a great time in France it was with more than a little anxiety that we welcomed them into our tiny flat.
Indeed, we had a number of activities in store for our guests, but since they arrived quite late into London, and the concert was just the next day, it was difficult to plan anything particularly thrilling. The next day we all went for lunch at a local southern Indian restaurant – hey, I had to give them a taste of Britain's favourite food!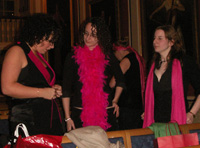 There was just enough time for a quick rest before nipping down to the Royal Academy of Music for our warm ups. The excitement was palpable, and I think you could especially feel it emanating off the many newbies we had this season. They really put a lot of effort in: Amy looked a treat in her dress and stillettoes, and right up to getting on stage – and even after – Ben was fussing about his pink accessory! If you look closely in the photos you can see who the new members are because their shirts tend to be "blacker"!
By the time the doors opened the foyer was totally packed with people. Some resting Pinkies were working the crowd, and I saw Keri and gang hawking our CDs to great success. Then the even better news came – we were entirely sold out! I can't remember this ever happening before, so it was quite a momentous occasion.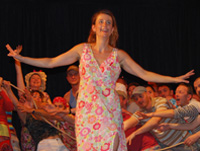 Peering down from the balcony it was great seeing all the familiar faces in the swollen audience, and what an enthusiastic bunch they were too. When Equivox came on the applause was rapturous, and when they performed the crowd went wild. Babette's background is in street theatre, and it really shows in their stage presence. This year, their theme was of a beach party, and there were choir members dressed in swimming costumes, scuba gear, hula skirts and farmer's tans.
In many ways, Equivox is a complement to the Pink Singers – their singing approach is more casual than ours, and they are very dynamic when they perform. The two songs which stood out for me was their opening number Aline, and a beautiful medley of European pop songs called Amore. By the time their set was done, the atmosphere in the auditorium was relaxed which helped to set the stage for our half.
This year there were a few changes to the way the songs were performed. Instead of Philip R and perhaps a few extra presenters, more Pinkies were involved, and we had small introductions by yours truly, as well as Philip G, Susan, Joey, Lynne and Andrew F. It was wonderful seeing how different people approached the task, and I really loved Joey's camping it up in his spiel about the musical numbers. Zane, our sign language interpreter, also got in on the action and donned pink satin gloves for his bit.
And what a performance it was too! All the anxiety over Dies Irae proved to be groundless as we gave it the best shot we have ever done. It was a thunderous opening number and one the audience really seemed to love. Even Come What May, which at the start of the season sounded more like nails being dragged across a blackboard, sounded simply heavenly, and I saw a number of people in the audience breaking down in tears as we reached the crescendo. Finally, I want to congratulate the sopranos and altos on their wonderful performance of Diamonds Are A Girl's Best Friend. They didn't have a huge amount of time to prepare it, but were slick and sexy anyway!
All too soon we found ourselves joined on stage by Equivox, singing the joint song finale Fields of Gold. I have always loved this particular arrangement, and with our numbers doubled by the French choir the sound was wonderfully rich and emotive. It is surprising how exhausting performing can be, and I always feel a little light-headed afterwards – a combination of adrenaline and needing to pee I suspect.
Once we got off the stage it was a mad rush to get changed into civilian gear, and then to the bar where I met up with a bunch of my friends who came down to see Simon and I. Some of them were here for the first time, and they were very impressed indeed, so much so that a couple of them expressed interest in hiring us for future events! It looks like 2008 is off to a good start for the Pink Singers.
by Hsien
Tenor