The collaboration between a British gay and lesbian choir and a Maltese Christian choir was always going to raise eyebrows, especially if they met in Malta, where Catholicism holds sway and the Gay Rights Movement is almost non-existent. In July 2009, however, the Pink Singers managed just that, taking their show to Malta to promote social equality through their music.
There were two immediate dilemmas; how would the fervently religious Maltese community react to a gay choir, and would it be possible to pair the Pinkies with another choir given these circumstances. "The gay scene in Malta is still quite backwards and limited", Andrew says, "there are no gay choirs in Malta and they have no idea what a gay choir is…people were thinking it was going to be all feather boas and being camp".
Under the leadership of Andrew Francalanza, a Maltese national, the Pinkies took the first small step towards a brighter future for Malta's gay community, achieving the seemingly impossible for a minority without a voice. Andrew Francalanza became a Pinkie in 2007, and quickly learnt "how much fun it is to go abroad and sing with another choir". In his capacity as International Concerts Co-ordinator, Andrew broached the idea of taking the choir to his native Malta.
At the Malta Gay Rights Movement's suggestion, Andrew approached Symphonik, the choral branch of a Christian organisation that seeks to promote social equality through music and mirrors the Pinkies in intention and method. "It ended up growing from just a basic concert to being something really huge" Andrew recalls; "a gay and lesbian choir singing with a Christian choir underneath the Gay Rights Movement's umbrella to promote equality".
Eight months of frantic organisation later, the Pinkies headed to Valetta for a large scale concert in the City Theatre, with fifty choir members travelling to Malta's capital for the event. Due to Andrew's prior communication with the Maltese media and his own network of friends and contacts, the island was awaiting their arrival with a mixture of curiosity and wariness. As predicted, some called for the Church to take a stand against the choir's promotion of homosexuality, but the majority of the community gave the Pinkies a warm welcome. "95% of feedback was really good" and the concert audience was very positive; "we blew them away!" Andrew says.
The joint concert was scheduled as the grand finale of Malta's Pride week, which the majority of the Pinkies attended, having also sung at London's Pride march two weeks previously. "London Pride and Malta Pride are two different concepts" Andrew explains. "London is in a place where it can celebrate being gay" with "a whole day and a big party in the streets where you can just have fun and be silly". Malta Pride is "an hour…half an hour of marching, half an hour of speeches, and it was…quiet." There was a feeling of silent anger amongst the marchers, whose banners displayed rage rather than celebration. "Even though it wasn't said, [the silence] was a way of saying 'we don't have a voice'" Andrew says.
The Pride march had a great emotional impact on the Pinkies, with their Chair, Mark Winter, describing the scene as "London twenty years ago". Their presence changed the atmosphere completely, bringing joy and fun to the event and doubling the number of marchers to almost a hundred. The Pinkies showed the Maltese gay community the way Pride should be; full of fun and, most importantly, pride in who you are. Their positive attitude, alongside their banners and rainbow flags, had an instant impact. The Maltese EU parliamentary representative stood up and professed his ignorance regarding the gay rights movement and his desire to work with the community towards a greater acceptance and social freedom.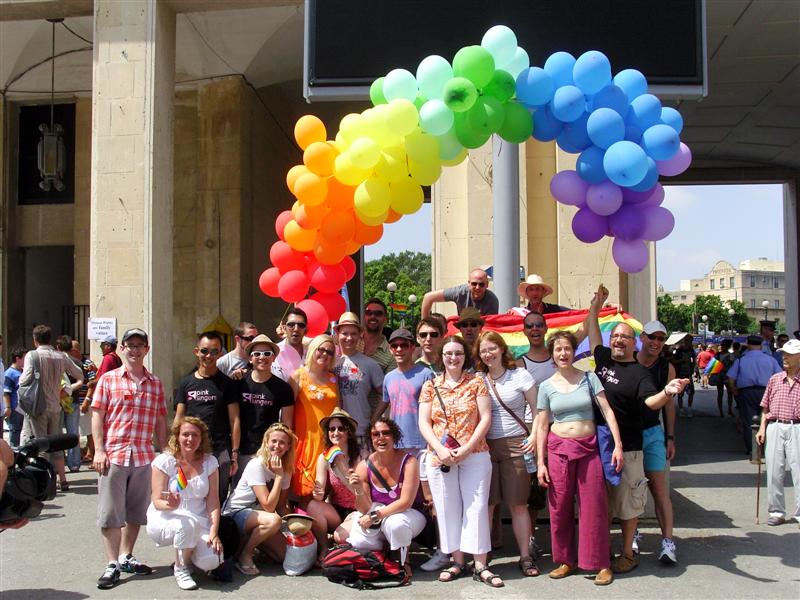 Amazingly, the Maltese Prime Minister followed his lead and has now established a lobby group to promote gay rights on the island. Further to this, the Malta Gay Rights Movement has set the wheels in motion for the formation of a gay choir, an amazing development considering the current social ramifications of being openly homosexual in Malta.
The concert and Pride march were both an astounding success and provided the Pink Singers with a moving experience as well as new friends from Symphonik, who joined them at Malta's only gay bar for the concert after party. The trip's success demonstrates the impact small actions and a positive attitude can have. "For the choir the [trip] was a really powerful experience…it wasn't just us singing and having fun, it was such a big political message" Andrew says, "they keep asking me when we're going back."
Alex Field, guest writer
Timeline datestamp: 13 July 2009