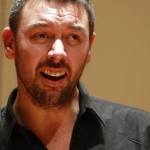 Apparently, the last time the Pink Singers appeared on the Joel Kafetz show turned out to be one of the most popular episodes ever. This wasn't just down to us of course, but all the other LGBT choirs who took part.
Because of this Joel decided to give it a second whirl, and this time our own Johnathon picked up the microphone. He spoke for over 15 minutes on topics covering everything from what the Pinkies are doing next, to what it means to be in a choir, to how hard it can be coming out.
More topically, the discussion also turned to the recent spate of gay teen suicides in the U.S. of A and the work of the It Gets Better Project. Stay tuned to this website, or keep an eye on the Pink Singers YouTube channel – we have something very special planned to support the cause! After the break you can hear the edited version of Jonathon's guest stint on the radio show.
Edit: As promised, our contribution to the It Gets Better project can be seen here.