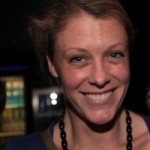 It was warm. The streets were old and welcoming. There was a buzz in the air. We were sitting directly under the magnificent, ancient Acropolis, having dinner at the beginning of our weekend in Athens. The food was amazing. We are the Pink Singers, and we were there to perform in Athens' 7th Gay Pride Festival.
As it turned out, the weekend couldn't have gotten much better (or having gone much more smoothly). From the moment we arrived at at the main site for a sound-check on the Saturday afternoon, the organisers were genial, welcoming and inclusive. As we warmed up on stage, the public milled around, smiling and clapping. This was just a sign of things to come.
Back on that stage at sunset, as the opening act for Athens Pride 2011, we were welcomed by thousands of Grecians (and their international friends!) who cheered, clapped, wolf-whistled and swayed as we ripped out repertoire from Sondheim to Madonna; from Sunday to Proud Mary; from Hairspray to West Side Story. We felt special; that we were there for more of a purpose than to simply entertain. We were helping celebrate the cause closest to our hearts and sharing that support with an ancient city.
We ignored the (unimpressive) anti-gay protesters on the side of the road and sang (and danced) as loud and proud as our voices (and our almighty Leader/MD, Murray) would let us.
Upon finishing our set we were escorted through the crowd to the back of a float. We scrambled on, cranked Beyonce, Pink and Lady Gaga on the affixed loud-speaker, and sang and danced as the crowd (allegedly 10,000-odd strong) followed us around the city streets. It was incredible!
Thousands of people smiled, cheered and waved as we cruised along with the other Pride floats. There was brass bands and drummer-girls and costumes and craziness. While Alice (support conductor and singer) leaned off the side of the float, painting the smiling faces of the ancient city with her iconic gay-flag-coloured crayon, Jerome (tour organiser and singer) lead the rest of us in a Pride dance-off. It was mad: if you punched the air (and we did), the crowd followed suit. If you were Rachel (choreographer and singer), they even wanted to kiss you! The feeling of support and oneness with those around us was unprecedented.
Back at the main festival site, we spent the rest of the evening watching the other acts and enjoying the incredible hospitality of the organisers and volunteers of Athens Pride 2011. The love and support shown was definitely in keeping with the festival's slogan for the year, "Kiss Me Everywhere". A big, big 'thank you' to all involved and for inviting us to be a part. It was a weekend that the Pinkies will never forget.
Emma
Timeline datestamp: 04 June 2011