The clock is ticking and last minute preparations are being made to the Pink Singers' summer concert, Razzle Dazzle – celebrating musical icons of the gay and lesbian community. The choir has been working tirelessly all season learning the repertoire and choreography in order to give you, the audience, the best possible performance on 16 July.
The choir's artistic director, Oliver, talks about why he hopes this concert is going to be extra special.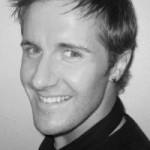 "Since I became the artistic director I've been itching to put on a real 'show' with the Pinkies. Once we'd decided that the musical theme was going to be gay and lesbian icons I knew this was the time to do it. We're a fabulous LGBT choir and I wanted the concert to highlight individual talents and personalities, but not be restrained by the usual choir concert format. Fans of the Pinkies shouldn't worry – they will still get to hear the mixture of classical and contemporary music they're used to, but hopefully they will be surprised and excited by the style of production and the 'little extras' we have planned!
The visual aesthetic pulls inspiration in part from the cabaret clubs of Paris and one of my aims is that the audience will be drawn in and they feel part of the show. We're performing at the Bloomsbury Theatre, which is a new venue for the Pinkies, and is the perfect space to create a more intimate feel.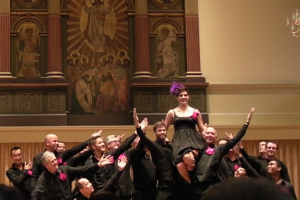 The artistic team has worked really hard with the choir and managed to fill an entire show without a guest choir. And just to make things harder for ourselves we've prepared some sort of choreography for nearly all the numbers so that we keep the audience fully entertained. The soloists and small groups will be a refreshing addition to the programme and keep your eyes peeled for some usually shy and retiring types making their not-so-shy-and-retiring solo debuts!
I'm really excited for 16 July and I'm confident that all our hard work will pay off. It won't be the usual Pink Singers' style of concert, but it will still definitely maintain that unique Pinkies' je ne sais quoi that makes all of our concerts distinctly ours."