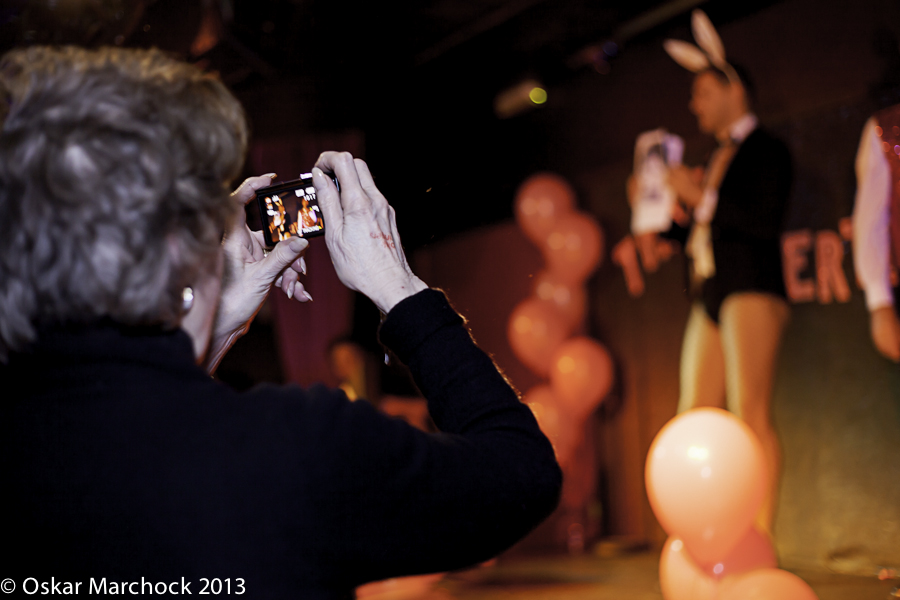 I had the best time helping to organise the most recent Pinkies fundraiser. Charly (my co-host) and I went for a showbiz theme – as 'there is no business like it', according to Ethel Merman. It seemed like a lot to organise, but once you put a few pink minds to work on something it is amazing what can happen.
Rachel's mum set some fiendish questions, our multimedia man magnet Simon P got a brilliant set of intros together for our music round, graphic Greg made a beautiful poster and the Two Brewers bent over backwards to accommodate our every need in their backroom…

"But what about prizes for the raffle?" we asked, and within a blink of pink eye (isn't that a medical condition?) our Musical Director managed to cadge top seats for the opera, Oskar donated a beautiful photographic print, and Karen slipped in (pardon) a couple of panto tickets. All set!

Once I donned my blond wig (was I channelling Tommy Steele, or Andy Warhol?!) and got my hands on a pink sparkly waistcoat there was no holding me back. We had Pop, TV and Film rounds interspersed with live acts: KC belting out Somewhere, Mina's Ukulele classic "Love and Gin" and Charly and I closing with a very mixed up version of "You're The One That I Want". Lizzie managed the audio side of things brilliantly and with her usual calm.
All in all it was a fabulous evening and everyone was thoroughly entertained.
A very special thank you has to go to my wonderful husband and surrogate Pinkie Phil who assisted beautifully throughout the evening first as 30's club hostess Solange and later as a hot Man Bunny.
You really needed to be there!