The Pink Singers were delighted to perform at the presigious Het Concertgebouw Amsterdam as part of the Europride Amasing Choir Festival earlier this month. Massive thanks to our wonderful hosts Manoeuvre – Gay Men's Chorus Amsterdam and Galakoor. Here's the low-down from bass, Daniel…
According to the Oxford dictionary (and thesaurus) there are 2,730 positive adjectives beginning with A and honestly I could use pretty much every one to describe the Pinkies latest jaunt to Amsterdam for the AmaSing festival.
As an Aussie, it is very exciting to travel interstate to perform. Travelling internationally to do so is always a dream, and – as a part of the Pinkies – I've been fortunate enough to do that twice now. Firstly, Dublin and more recently, to Amsterdam – not just to sing anywhere but in one of the best concert halls in the world, the Concertgebouw.
The trip officially started off with registration at Het Scheepvaartmuseum (National Maritime Museum) where a few pinkies started to congregate. I don't think you really appreciate your friends until you haven't seen them in a while, so there were lots of hugs all round. The organisers then put us on a great canal cruise which allowed us to see Amsterdam from the water and helped get our bearings in this horseshoe city.
The cruise dropped us off at Het Amsterdam Museum for our official meet-and-greet which really gave us a great feeling for what was to come. With all the recent hate crime in the world, it was incredible to get together with 600 of our LGBT+ family to chat and to sing.
After a great afternoon, most of the Pinkies retired early to prepare for our big day of performances (which turned out to be of epic proportions).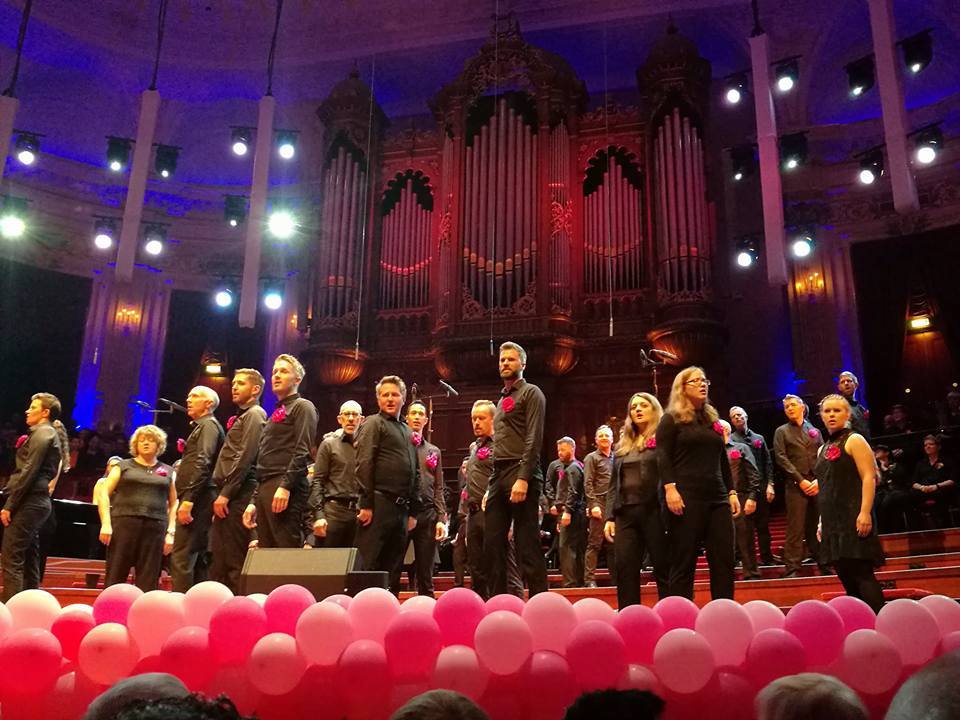 Friday saw the first of our performances: a 15 minute outdoor set and a beautiful set inside the Conservatorium Hotel. Both were greatly received with a request for more from the patrons of the hotel; however, these gigs were just the warm up for the night to come. Later that day, we had a quick sound check inside the Concertgebouw, which reduced a chorister from another choir to tears. He said, "Our opening of 'I Wanna Dance with Somebody' gave him shivers and made his eyes well up". (Wow, we only sang 16 bars)!
The pinnacle of the festival was the main concert in the spectacular Concertgebouw. The acoustics of this hall are world renowned (it has a reverberation time of 2.2 seconds, for those playing at home) and was certainly a spectacle to behold – for a full 6.5 hours (!!), as the concert inevitably over-ran… It's definitely the first time I have finished a concert the day after it started.
The organisers of AmaSing had hired a park on the banks of the canal where all the choirs could leisurely watch the parade from. They even provided lunch (!) and we all sat around chatting with our new choral friends and enjoyed the stunning day that celebrated everything we believe in (and of course there were impromptu performances from various choirs as well…).
Amsterdam is synonymous with taking mind altering substances 😉 and the Pinkies' excursion to this wonderful city certainly left us on a high.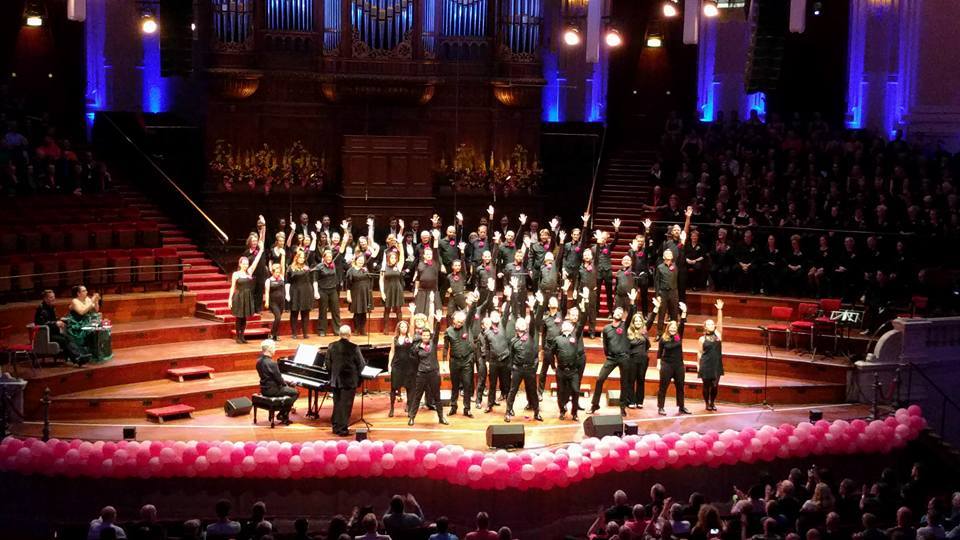 A huge thanks must go to the AmaSing team for a brilliant Europride event and to basses Gary and Paul for organising the trip from our end!
Timeline datestamp: 04 August 2016