This season's utterly splendid alto section social was organised by the ever-lovely Kay, and at lunch time on Saturday 13th May eight intrepid teams delved headlong into her Big Pink Hunt. Our starting point was the steps of St. Martin-in-the-Fields Church (right next to Trafalgar Square). Kay and Annie were on hand to collect entry fees, dish out sugary/enumberry goody bags that were to sustain us on our quest, and distribute the maps and "not cryptic" (!) clues that would guide us through the West End to our final destination. We were then sent on our way at timed intervals with true military precision, with some teams actually heading off in the right direction! As always Liang and Hsien were at the ready to take photos a-plenty.
The clues led the teams to locations such as Covent Garden, Charing Cross Road and Old Compton Street, and had people looking for the likes of a very old musician's organ, one of the largest erections in London and finally one of a pair of knockers (Simon Groom would have been proud!). All the teams did particularly well on a clue with a nautical theme – the one about salty seamen. We all eventually ended up in Soho Square, where each team was welcomed with a hearty cheer and yet more goody bags after a job well done.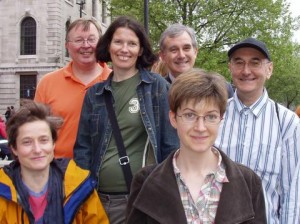 The winning team was 'Zinc Yellow' who completed the Hunt with all clues correct and in the fastest time – 1hr 15mins! Congratulations to Janet, Hester, Melanie, Michael, Philip R and Martin. There are some who say that Michael's extensive knowledge of the back alleys of Soho was a distinct advantage for the team . . .
Special mention should also go to 'The Winning Team' who took the longest time to complete the hunt – but perhaps this was because their youngest team member was travelling in his baby buggy.
Many thanks go to those people who kindly donated prizes for the hunt, and of course to Kay for organising a truly frolicsome afternoon of glorious pinkitude. Much fun was had by all. We all love you sweetie!
The Results:
There were 8 teams and eleven prizes so the first three teams got to pick twice!
1st Zinc Yellow
2 bottles of champagne AND a rather handsome rubber chicken
2nd Susannah's Not Here Yet
Juicer AND a black lycra blindfold
3rd The Goodies
A goody bag of eatables & luxuries
AND motorbike posters and stickers
4th Dr & the Medics
Optical accessories kit
5th The Winning Team
Bag of sensual goodies
6th Gaudi's Girls
Quarter-size pink guitar
7th Emelda & Sue
Secret message kit & a rubber duck
8th Newton's Nightmare
A dental healthcare kit
by James L
Tenor